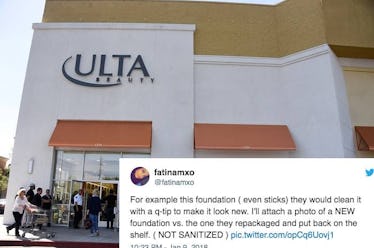 A Former Employee Is Claiming Ulta Resells Used Makeup & Twitter Is Not Happy
Getty/Fatinamxo on Twitter
The golden rule of testing and purchasing makeup is to make sure that everything is sanitary. You can typically assume that new store-bought makeup is clean, but now the internet has us wondering, does Ulta sell used makeup? A former Ulta Beauty employer is claiming that the retailer does this, but a serious accusation like this merits a closer look.
Ulta Beauty is home to some of everyone's favorite cosmetics, makeup, and skincare brands, including, MAC, CoverGirl, Dove, Neutrogena, and about 500 others. The brand has epic sales, including the Ulta Love Your Skin event, and is a one-stop-shop for any and all beauty needs. In an era when many companies are shutting down their brick and mortar stores, Ulta has expanded its retail store reach. The company is clearly doing something right.
Now that you're up to speed with the brand, let's talk about what a former Ulta employee is claiming on Twitter. I personally love Ulta for its variety of products, convenience, exclusive sets, and because I identify as a broke millennial, coupons. So it saddens me to see these allegations against the brand's business practices. I sincerely hope they're not true, as Ulta has quickly rebuffed the claims, but that hasn't quieted former employees who assert otherwise.
Spilling The Tea
Twitter user Fatinamxo, a former Ulta employee, started a lengthy thread to inform her peers of what she claims she witnessed while working at Ulta (she was no longer an Ulta employee at the time she made these allegations).
Fatinamxo says the retailer would resell all types of products and clean them as necessary to appear new. She asserts this included "makeup, hair care, skincare, fragrance, hair tools, etc."
Fatinamxo asserts that her manager at the time would clean products to appear new, but that the practice was less than sanitary.
The former employee alleges that she's heard similar claims about other Ulta stores (she is only speaking for the particular location where she previously worked).
Fatinamxo says she contacted the Ulta corporate office to discuss this matter and was told that the company ensures that mascara units are sterile, but the representative was unsure about other products. It's important to note that this does not mean that Ulta doesn't ensure the cleanliness of it's other products, only that mascara is perhaps a priority — it's quick-to-expire and goes near your eyes, after all. Fatinamxo describes the corporate employee as "speechless" when asked about other goods, so it seems to me that she was shocked by the claims as well.
This advice goes for customers at any store, double check that your makeup is unused, no matter where you buy it!
Fatinamxo clears up her argument that she has no vendetta against Ulta, only that she wants to spread awareness about hygienic beauty practices.
The Clapback
Elite Daily reached out to the brand and received reassuring response,
The health and safety of our guests is a top priority for Ulta Beauty and we take these matters very seriously. Ulta Beauty's practices do not allow the resale of any items that have been opened and/or used. The actions described appear to be inconsistent with our practices and we are currently looking into this matter.
Ulta is taking this accusations to heart and looking to rectify the situation. According to an industry insider, most beauty companies send returned makeup back to the distributer to be destroyed. "I don't believe Ulta would do this, it's illegal and they are too smart for that," said the source, who asked to remain anonymous.
The retail giant has also chosen to respond to customers' tweets about the matter.
Personally, when such a large brand takes the time to respond to customers individually, I think it's a nice touch.
Ulta has taken the time to respond to seemingly every tweet about the allegation. "We do not condone the act of reselling used products. We're currently looking into these claims," read many of the responses.
The beauty company is assuring it's customers that any unsellable products are "disposed of in accordance with applicable laws, rules, and regulations." Finally, some piece of mind.
The Twitter Storm
Plenty of current Ulta employees were quick to denounce the allegations.
User Siren referenced the practice of "dumpster diving," in which people ransack the trash of a beauty store in order to find disposed-of products. I shudder. Please don't do this, there's a sea of wonderful, affordable beauty products out there.
An employee from another cosmetics company is disturbed by the allegations.
Another Ulta employee comes to the brand's defense, though. If Fatinamxo's claims are true, perhaps she had a one-off bad experience.
A current Ulta employee provides some relief.
More Ulta employees display some serious brand loyalty and I'm here for it.
OK, this is funny though.
My brows can still be on fleek.
I, for one, am relieved that Ulta is being proactive in addressing these claims. It's an important to discussion to have, and if a few locations did indeed resell returned makeup, it needs to come to light. Regardless of where you shop, it's important to double-check that the products you buy haven't been opened before. No one, especially not a glitter kitten like you, deserves sloppy seconds.