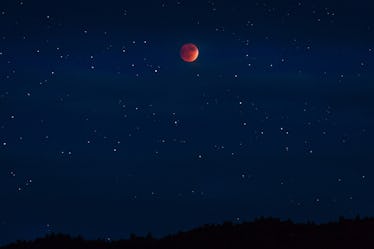 The Lunar Eclipse Might Throw Off Your Sleep Schedule, But Here's How To Fix It
The blood moon — aka a total lunar eclipse — is coming up on Jan. 31, which means we only have a few more weeks until we see that glowing red orb up in the sky. I don't know about you, but I'm pretty excited for this rare and awesome lunar event, so much so that it's kind of keeping me up at night. Speaking of, I have to wonder, does the lunar eclipse affect sleep patterns? While it seems there might not be a totally logical connection between the state of the moon and the state of your slumber, it turns out this spectacular sight has more of an effect than you might realize.
Research shows that, during a full moon (side note: a lunar eclipse can only happen on a full moon), people sleep, on average, 20 minutes less than they usually do. According to CNN, a study led by researchers at the Psychiatric Hospital of the University of Basel in Switzerland asked 33 people between the ages of 20 and 74 to sleep in a lab with no windows and temperature-controlled conditions. The moon wasn't visible to them, and they had no knowledge that the experiment had anything to do with lunar phases. They spent a total of three and a half days inside that lab.
While it was a pretty small study, the findings were super cool, if you ask me. Basically, it took, on average, five minutes longer for the volunteers in the study to fall asleep during a full moon compared to their sleep patterns during a new moon. The volunteers' measures of deep sleep also decreased during the full moon by about 30 percent, and they produced less melatonin (aka your sleep hormone) during that time as well.
Keep in mind, the upcoming blood moon on Jan. 31 is not only a full moon, it's a supermoon and a blue moon — which may just make it extra powerful in terms of its effects on you. So, here are some tips to make sure you don't lose any shut-eye under the crimson light of this special moon.