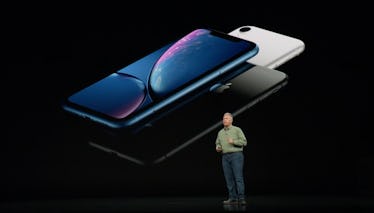 The iPhone XR Doesn't Come In Rose Gold, But There's A Really Similar Option
Screenshot/Apple
It's an exciting day for Apple users, because the company added a handful of glamorous new products to its repertoire. During the Sept. 12 Apple event at Steve Jobs Theater in Cupertino, California, the beloved iPhone XR was finally announced. Now that the new phone is finally here, you're probably wondering what colors it comes in. More specifically, you might be asking yourself, "Does the iPhone XR come in rose gold?" Don't worry, I was asking the same exact question when I found out about the new device.
Why? Because I love rose gold. If you know me, then you probably know that my laptop case is a glistening shade of rose gold, and my keyboard protector is also rose gold. Now, the only thing I need to top off my collection is a rose gold Unfortunately, the new phone doesn't come in my favorite shade. BUT, it does come in a ton of other colors. The phone is being offered in Black, White, Red, Yellow, Coral, and Blue. The coral one does very closely resemble rose gold, though it's not marketed as the same color.
As you know, rose gold has become extremely popular amidst the millennial pink phase of this generation — and people can't get enough of the blush-colored hue (including myself). Luckily, Apple has already utilized the color with iPhones in the past. For instance, the company's iPhone SE, iPhone 6S, iPhone 7, and iPhone 8 all came in rose gold or gold.
However, Apple left the color out when it released the iPhone X in fall 2017. (I was kind of bummed, but the phone's awesome features made me forget about the color choices entirely.) Instead of rose gold, the X came in two sleek shades including Silver and Space Gray. Even though no pink was involved, each color choice looked chic AF and matched almost everything. If you're hooked on rose gold, though, you can still purchase a pinkish phone case so it matches your other rose-colored accessories.
Let's get back to the iPhone XR, though. Before the phone was officially released during Apple's "Gather Round" event, photos of the previously-rumored device were leaked on Twitter as the iPhone Xc. Ben Geskin, whose Twitter bio says "Leaks Visualization" and "Concept Designer," shared photos of what he called "prototypes" of the iPhone Xc (iPhone XR). The photos showed the device in various colors, and I was crossing my fingers with hopes that the rumors were true. Elite Daily reached out to Apple at the time to confirm the iPhone Xc details in the leaked photos, but did not hear back by the time of publication.
Other color options shown in Geskin's photo leak were white, space gray, and red.
Regardless of which color iPhone XR you choose to buy, I'm sure you won't be disappointed. Once you start using the phone's impressive features, you'll probably forget about the color completely. (Or, if you're anything like me, you'll cover it up with some pretty phone case either way.)