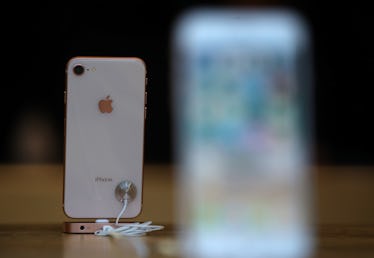 These New Leaked iPhone Photos Reportedly Show The iPhone 9 With A Very Different Name
Justin Sullivan/Getty Images News/Getty Images
If you're very much here for all things Apple, then the beginning of September is pretty much the most wonderful time of the year for you. With Apple's "Gather Round" event happening on Wednesday, Sept. 12, you're likely hoping that the tech giant will announce three new iPhone models on that day. As you wait for the big day, though, you can hold yourself over with the latest rumors churning about the new technology. These leaked iPhone 9 photos reportedly show one of Apple's newest phones with a completely different name.
Per Mashable, the purported "dummy models" of the iPhone Xc — which is reportedly what the iPhone 9 will be called — made their way to Twitter on Thursday, Sept. 6 via Ben Geskin's account. He apparently posted photos of four apparent dummy models of the 6.1-inch phone that was previously being referred to as the iPhone 9. He captioned it, "iPhone Xc (6.1" LCD) clones/dummy models in new colors." Elite Daily reached out to Apple to confirm the details in the photos of the reported iPhone Xc but did not hear back at the time of publication.
The reportedly available colors of the glass-back iPhone Xc are white, space gray, rose gold, and red, per 9to5 Mac. OK, this is when I hope that this photo is a reliable indicator for the new phone, because rose gold is life, people.
It turns out that the photo might even be more accurate than a reported "clone/dummy" model of the iPhone Xc, because on Sunday, Sept. 9, Geskin — whose Twitter bio reads "Leaks Visualization" and "Concept Designer" — retweeted his Sept. 6 photo and wrote, "Guys... this is not clones or dummy models.. this is a real deal ... Prototypes." So, these "prototypes" seemingly show a 6.1-inch LCD iPhone with aluminum edges as opposed to stainless steel, per 9to5 Mac.
In an effort to confirm that these reported iPhone Xc photos are likely that of the rumored lower-cost iPhone 9 (aka reportedly the iPhone Xc), people noticed that the photos of the purported phones in the Sept. 6 tweet show the lower-cost aluminum edges and a "single lens camera" which is apparently another cost-saving move. Per the website, the most recent reports have the price of the 6.1-inch LCD iPhone starting at $699. In comparison, the iPhone X that was released in November 2017 is currently selling at a starting price of $999, per the Apple website.
So, the presence of the cost-saving features on the purported "prototypes" of the iPhone Xc seems to indicate that you can expect to see a similar if not almost identical design unveiled during the Wednesday, Sept. 12 "Gather Round" event in Cupertino, California.
I don't know about you, but I am totally here for a sleek AF iPhone that's reportedly about $300 less than the iPhone X, whether it's called the iPhone 9, iPhone Xc, or iPhone Xr. Although, it seems like iPhone Xc is the front runner, which Mashable pointed out is likely a nod to the lower-cost iPhone 5c that was released in September 2013. With a rumored three new iPhones and a reported Apple Watch Series 4 to be announced on Sept. 12, there will be plenty of information to pay attention to. Thanks to these purported iPhone Xc photos, though, you'll have a good idea of what to expect with the 6.1-inch LCD iPhone.