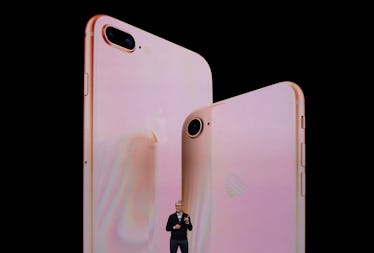 This Is When Apple Could Announce Its Newest iPhones, So Get Excited
Justin Sullivan/Getty Images News/Getty Images
Like a puppy, I'm easily excitable. You could tell me that you just got a car wash or that Whole Foods recently got a new flavor of hummus, and — regardless of the logistics — I'll probably be jumping for joy. It's who I am, and I can't help myself. However, I speak for most people when I say it's actually exciting whenever Apple announces a new product, which may leave you wondering when Apple will announce new iPhones for 2018.
UPDATE: On Thursday, Aug. 30, it was reported that Apple sent out invitations for its next keynote address, and it will take place on Wednesday, Sept. 12 at Steve Jobs Theater at Apple Park in Cupertino, California, per Business Insider.
EARLIER: It's always fun when Apple announces its latest and greatest iPhone. Personally, I'm usually two or more iPhones behind the latest generation, but it's still interesting to see what tech aficionados and Apple loyalists are going to be ogling over for the next few months. Thankfully, you can look to the brand's past announcements to see when Apple might deliver the goods this year.
Elite Daily reached out to Apple regarding a possible announcement date but did not hear back by the time of publication. However, per CNET, there's a pretty likely chance that the new model will be announced on a Tuesday or Wednesday during the first or second week of September. This is entirely based off when Apple has released its iPhone announcements in the past — between 2012 and 2018 — so Apple fans will, hopefully, have something to look forward to right around Labor Day.
Labor Day falls on Monday, Sept. 3, 2018. Per CNET, whenever Labor Day has fallen on Sept. 3 or earlier, the newest iPhones were announced the following week. This has been the pattern for the last six years, so there's good reason to believe that it might happen the same way for the fall 2018 announcement.
In further digging by CNET, the website discovered that during the years when Labor Day landed on Sept. 5 or later, Apple announced the new iPhone that following Wednesday, only two days after Labor Day. This is how it played out in 2015 and in 2016. For 2018, since Labor Day is going to be celebrated on Monday, Sept. 3, Apple will likely announce its latest and greatest gadgets on the following Tuesday, Sept. 11, or on Wednesday, Sept. 12. So, there you have it. Just a little over a month away.
In terms of in-store release dates, these dates make total sense. Per CNET, new iPhones are usually released a week and a half after Apple has announced its latest model (aside from "specialty" iPhones, such as the iPhone X or the iPhone SE). And since 2012, customers could buy the latest iPhone on a Friday, during the third week of September. So, the newest iPhone estimated to be released in stores on Friday, Sept. 21. So, so soon.
You can probably tell that I'm not a mind-reader, a wizard, or the queen of Apple. I know, it's disappointing — I'm merely human. I can, however, let you know that the prediction for Apple's next iPhone release is that it's going to happen sometime in September, just a few short weeks before the in-store release. Here's hoping — my fingers and toes are crossed, you guys.