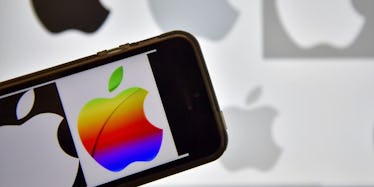 Here's How To Live Stream Apple's Keynote, Because You Probably Weren't Invited
LOIC VENANCE/ Getty Images
If haven't heard the news yet, Apple is holding a very important keynote address this month in Cupertino, CA. It's expected that the iPhone 8 will finally be announced, as well as updates to the iPhone 7 and 7 Plus. Since your invite probably never made its way into your mailbox, you can still keep up with all the updates when you learn how to live stream Apple's Keynote on September 12.
Preparation before the big day is key. You don't want to run into day-of mishaps trying to figure out how to tune in five minutes before it begins. Never fear, though, because you are about to be armed with all the information you'll need to be first in-the-know about the latest Apple updates.
According to TIME, you can live stream the event, which begins at 10 a.m. PT, from the Apple website. There are different requirements depending on the device you plan on using to watch the event. The first options are watching from your iPhone, iPad, or iPod Touch. If you will be tuning in from one of these devices, you'll need to make sure that it's an iOS7 or later and that you are using the Safari browser.
If you can't make that work, you can use your Mac or MacBook. Just make sure you've downloaded the latest Safari and OS X updates. If you've done that, then you're all set. But if you don't have Safari yet, don't worry. As long as you're running with Windows 10, you can join in on the announcement by watching with Microsoft's Edge browser.
Finally, if you want to experience it all on the big screen, you can watch using your Apple TV since the event will be streaming from Apple's set-top box. Just make that your model is at least second-generation and that you're running software version 6.2 or later.
Now that you know exactly how to tune into the live stream, you'll be first in-the-know (and queen of your group text) for all the Apple updates on Sept. 12.