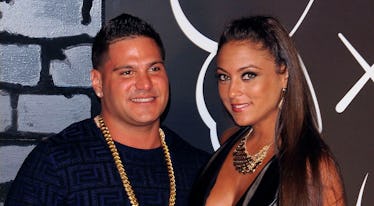 Ronnie's Instagram Meltdown Has 'Jersey Shore' Fans Asking This One Question
C Flanigan/FilmMagic
Back in the day, the Jersey Shore drama was pretty much entirely contained to our TV screens, but the new revival is also bringing a whole new dimension to the cast's blow-ups: namely, social media. Ronnie has been at the center of all the controversy on Jersey Shore Family Vacation, and recently, that spilled over into a fiery Instagram fight with the mother of his newborn child, Jen Harley. Of course, Ronnie's ex Sammi is also being brought up during the dispute, and fans are wondering: Does Ronnie follow Sammi on Instagram? Let's go over how Ronnie's relationship with Sammi might work into all of this drama.
OK, so before we get into the Ronnie/Jen fiasco, we have to talk about what happened on last Thursday's episode of Jersey Shore Family Vacation. The episode started with Ronnie appearing to hook up with another woman, and then he continues his downward spiral by admitting to Snooki that he is still in love with Sammi and revealing that he is "miserable" about the fact that he is about to have a child. A huge part of the new Jersey Shore revival is centered around Sammi, the only original cast member to turn down the new series, and Ronnie's fractured relationship with her. Past episodes gave viewers hints that Ronnie may not be over his ex, but the most recent one flat-out screamed the truth.
After Ronnie's bombshell admission on Thursday's Jersey Shore Family Vacation, it's no wonder why he and his girlfriend (now also the mother of his newborn daughter, Ariana) might have gotten into a fight.
On Sunday, all hell broke loose on Ronnie Magro and Jen Harley's Instagram accounts. Ronnie kicked things off with a blistering post on his Instagram Story, which stated that you "can't turn a natural born hoe into a housewife," and went on to imply that Harley kept sex videos of her ex. Harley responded in her Instagram Story, accusing Ronnie of being a "coke head" and claiming he was threatening to show her alleged adult videos to her 11-year-old son. The fight reportedly erupted in a physical altercation on Monday, with People reporting that they couple could be seen fighting during a live stream on Harley's account. Harley's account has since been disabled, and E! News confirmed that the couple has now broken up.
So.... Where is Sammi in all of this? Fortunately for her, she probably missed the whole social media soap opera, because she does not follow Ronnie on Instagram. And although Ronnie all but professed his love for her on air last week, Ronnie does not follow Sammi on Instagram either.
Sammi must have heard about Ronnie's big confession on Thursday's Jersey Shore Family Vacation, though. Shortly after the episode aired, Sammi posted an adorable selfie with her boyfriend Christian Biscardi, and gushed about her boo in the caption: "#Bestie #UghILOVEthisman." Sorry Ronnie, but it definitely looks like your chance with Sammi is gone.
Jersey Shore fans took Sammi's refusal to join the rest of the cast for the revival series as a clear indication that she did not want to be around her ex. Prior to the new series' premiere last month, Sammi shared a note explaining her decision, which stated that she wanted to avoid "potentially toxic situations." I guess we all got to see exactly which toxic situations Sammi was avoiding when Ronnie went on his social media "Ronpage" this weekend.
Honestly, I don't even know which drama is more thrilling right now: the craziness happening on-screen on Jersey Shore Family Vacation, or the social media soap opera playing out among the cast in real life!