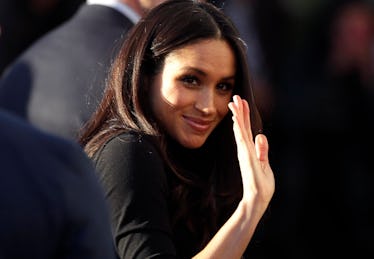 Does Meghan Markle Have Snapchat? How To Follow The Future Royal
WPA Pool/Getty Images Entertainment/Getty Images
The only thing that makes a royal engagement more exciting is the fact that the bride is an American who is living out basically the greatest Cinderella story of all time. I don't think I'll ever meet an actual prince nor get engaged to one, so my only option is to live vicariously through Meghan Markle. As an actress, she has made herself very available to the public, but does Meghan Markle have Snapchat? While it would be so fun to follow the future royal on Snapchat, unfortunately, it looks like she keeps her account private.
More than a year ago, on June 28, 2016, Markle announced to the Twitter-verse that she finally jumped into the Snapchat game. According to Express, it was actually Markle's close friend, Serena Williams, who convinced her to join the social media platform — just in time for Wimbledon. Markle's Snapchat profile picture is a close-up selfie (she has perfectly clear skin BTW), and she somehow snagged the username meghanmarkle. Is she the only person with that name in the world? Her Snapchat and other social media handles point to yes.
In the tweet inviting fans to follow along with her life, she said, "Okay guys... I finally figured out #snapchat. Or so I think... come follow my fun at @Wimbledon today."
The Suits actress obviously has a very strong fanbase because people were so excited about the actress making the plunge into Snapchat.
Sadly, our Snapchat fun was very short lived. Although you can still search and add Markle, it seems that she has opted to make her profile private — where her story can only be viewed by friends. Even sadder, I'm apparently not one of Meghan Markle's friends, so I haven't been able to see any of her premium content. What am I missing? Her and Prince Harry riding bikes or frolicking through a field? I MUST KNOW.
There are a few other ways to keep up with Markle. If you want to see her OOTD, what she's eating, or friends she's visiting, I suggest following along on her Instagram, @meghanmarkle. Although she's not filming Suits anymore, Markle lives an extremely productive life outside of work and wedding planning. For example: She very casually hangs out with Priyanka Chopra.
So, that's cool. If you're interested in learning more about Markle's activism efforts, world travel, and are a fan of inspiring quotes, her Twitter, @meghanmarkle, is the way to go.
Markle seems like an intelligent and strong woman — definitely worth it to follow her. She doesn't seem to be a fan of posting anything about Prince Harry or the progress of the royal wedding. However, she and Prince Harry seem extremely happy together.
During an interview with Vanity Fair in September, Markle gushed about Prince Harry, whom she referred to as her "boyfriend." She said,
We're a couple. We're in love. I'm sure there will be a time when we will have to come forward and present ourselves and have stories to tell, but I hope what people will understand is that this is our time. This is for us. It's part of what makes it so special, that it's just ours. But we're happy. Personally, I love a great love story.
Obviously, the two are absolutely crazy for each other. Even though they aren't tying the knot until May 2018, the royal family is breaking with tradition and allowing Markle to spend Christmas with the family.
A representative from Kensington Palace confirmed, "You can expect to see the Duke and Duchess of Cambridge, Prince Harry and Ms. Markle at Sandringham on Christmas Day."
This is a big deal, and makes Markle one of the first royal fiancés to be invited to Christmas with the family. Normally, it's tradition to wait until after the wedding to start attending royal family events. This could mean the royal family is taking steps to become more progressive and inclusive, which is great.
As for Markle, marrying Prince Harry is a real-life fairy tale, but she clearly has so much to offer on her own. Keep doing you, Meghan.
Check out the entire Gen Why series and other videos on Facebook and the Bustle app across Apple TV, Roku, and Amazon Fire TV.