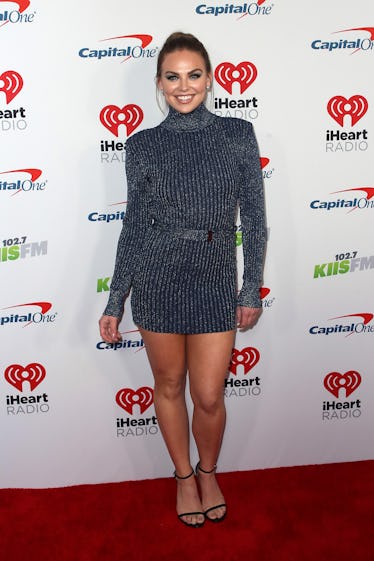 Hannah B. Gave More Hints About Her Appearance On Pilot Pete's 'Bachelor' Season
David Livingston/FilmMagic/Getty Images
The saga of Hannah Brown and Peter Weber continues. While Hannah has had a busy year in the spotlight, the latest trailer of Pilot Pete's upcoming Bachelor season hinted she isn't slowing down in 2020. If you somehow haven't seen it yet, the now-infamous preview video featured Hannah stepping out of a limo and shaking things up during Peter's journey to find love. In the wake of it, audiences were left to wonder whether Hannah Brown actually competes on Peter Weber's Bachelor season, or if she just shows up for a quick cameo.
Hannah and Peter have had an interesting history to say the least (cue flashbacks to their glorious windmill hook-up revelation), but Hannah's appearance in the promo for Pete's season makes it seem like they may have a future together too. Of course, previous Bachelor alums have returned to set before to platonically share advice and words of encouragement with their former flames, but it looked like there might be something more going on in this case. In the clip, Hannah told Peter "there's still something there" and he replied by straight-up asking her to be on the show saying, "Hannah Brown, what I'm about to say is extremely crazy... What would you say if I asked you to come be part of the house?"
In true ABC fashion, the promo did not give viewers Hannah's answer to that question, leaving everyone on the edge of their seats until the season's Jan. 6 premiere. But Hannah made a good point about her Dancing with the Stars season timing that hints at how things will play out onscreen. If you missed it, Hannah won her DWTS season and took took home the coveted Mirrorball Trophy. So does that mean she wouldn't have had time to rehearse her dances and compete for Pete's heart? As she told Entertainment Tonight: "I was in the studio eight hours a day... You should do the math and watch in January."
So, let's do the math: On Nov. 23, Peter captioned a photo with him and his dog saying: "Just got back from two months of the most insane journey ever."
If Peter filmed his Bachelor season from September to November — the exact time Hannah was working her toward winning the DWTS Mirrorball Trophy — it's safe to assume a full-time stint on Peter's season of Bachelor would be likely impossible for Hannah. The math just doesn't add up.
Despite Hannah's comment that suggests she only has a temporary return to The Bachelor, that's not to say her appearance won't shake things up for the rest of the contestants, as well as Peter himself. Viewers will have to wait to see all the drama unfold when The Bachelor returns to ABC on Jan. 6, 2020.