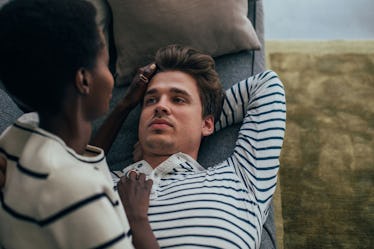 13 People Reveal Why "Chill" Dating Culture Doesn't Work For Them
It's easy to look back to centuries or decades past as quaint eras of dating. But TBH, a lot has has changed even within the last five years. One of the main shifts has been toward keeping things "chill" — that is to say, ambiguous AF. "Situationships" and (all the other newfangled words and behaviors that accompany undefined relationships) are the norm. It's all about going with the flow, lingering in the grey area, and embracing it, even though you secretly want commitment and the labels. So, does being "chill" while dating actually work? The short answer: "No."
Yes, being "chill" can mean being carefree and having an easygoing attitude, both of which are super valuable traits when it comes to dating. But for the most part, chill dating mostly consists of undefined relationships where people aren't communicating what they really want out of the situation.
As author and dating coach Diana Dorell told Elite Daily, "There is a lot of fear of appearing too eager or desperate for expressing feelings, so the pressure to 'chill' is there." So you or the other person goes along with it, even though they're not happy. And you don't speak up for what you want out of fear — it's a vicious cycle. Here are 13 other people in their own words as to why "chill" dating just isn't the move.