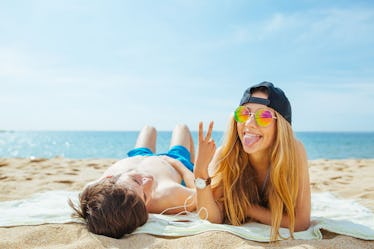 Being "Chill" About Dating Doesn't Work, & Here's Why
How many times have you heard some variation of dating advice that basically amounts to "play it cool"? I'm guessing a lot. It might be effective sometimes, (after all, if you've ever had someone come on too strong, you know how uncomfortable that can feel) but conversely, there is also such a thing as being too easy-breezy. I know that sounds counterintuitive, but there are plenty of reasons being "chill" about relationships doesn't work. As Diana Dorell, an intuitive dating coach and author of The Dating Mirror: Trust Again, Love Again tells Elite Daily, they all come down to making it harder to get the kind of relationship you really want and deserve.
"There is a lot of fear… of appearing too eager or desperate for expressing feelings, so the pressure to chill is there," says Dorell. "Being chill on the positive side can been seen as relaxing into the moment, which can be helpful, but it can also indicate a sort of spiritual bypass, like a 'whatever happens' attitude that can derail dating." Here are the biggest reasons being too chill in your dating game can set you up for heartbreak, because at the end of the day, honesty is the best policy.