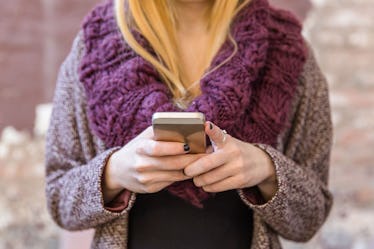 5 Times It's Not OK To Text Your Ex After A Breakup, So Put The Phone Down
Maybe you're bored, maybe you're a few glasses of wine deep, or maybe you just miss them. Regardless, your fingers are already hovering over the text thread with your ex's name on it, and you've already begun crafting your message. There are many legit reasons why you might be tempted to text your ex after a breakup, but sometimes, it can be a truly terrible idea. Like, doing shots of Patron on a Sunday night or letting your sister's friend do your highlights at home level bad idea.
Which begs the question: How are you supposed to know when to put the phone down? As a general rule, it's important to remember that there's a reason why you broke up in the first place. Sometimes we forget this as time passes, which makes it much easier to romanticize the idea of getting back together with someone. After all, it's comfortable — they already know us. There may still be a lot of love there. And it's definitely easier than trying to find someone new.
Still, hanging on to hope in a relationship that probably didn't work out for a good reason is a risky territory. No matter how badly you want to text the ex, experts say these are some scenarios in which you should resist the temptation.