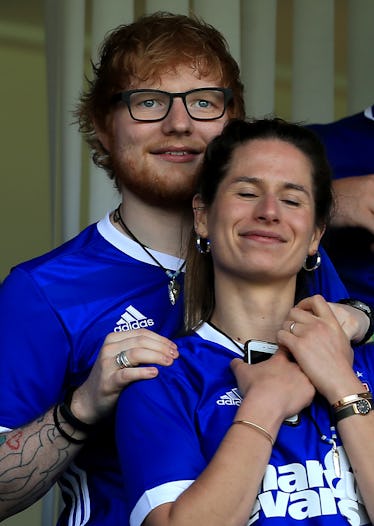 Ed Sheeran Just Hinted That He's Already Married To Cherry Seaborn
Stephen Pond/Getty Images Entertainment/Getty Images
Wait a second... I have a serious question. Did Ed Sheeran and Cherry Seaborn get married? Already?! This rumor has been circulating ever since a suspicious ring showed up on the "Perfect" singers ring finger in February 2018 after he popped the question to his longtime girlfriend, Seaborn. Now, it looks like Sheeran *might* have just confirmed their marriage. Thanks to a particularly coy interview Sheeran participated in with Access on Monday, Aug. 27, fans think the "I Dos" ship has already sailed and everybody missed it. Elite Daily reached out to Sheeran's team for comment on his marital status but did not hear back by the time of publication.
During his sit-down with Access, the interviewer wasted no time getting to wedding business. He asked Sheeran, "So the wedding details... have you picked a date? Do you know where? Do you know when yet?" Instead of giving a verbal answer, Sheeran just shrugged and held up his hand clearly displaying a wedding band. God, I love the interviewer. You can practically hear his brain working. After a brief pause, the interviewer hilariously exclaims, "Alllright!" However, he quickly recovers from the awkward revelation and adds, "That's exciting! Congratulations my friend! How did you sneak that one?!"
Great question, interviewer. Sheeran... ya wanna give us anything here, buddy?
In response to the obvious question, Sheeran explains, "Well, I never really do anything too public anyway." The interview congratulates him again, and Sheeran thanks him, essentially confirming he, Ed Sheeran, IS A MARRIED MAN, Y'ALL!
If you can handle the awkwardness, you can catch the whole exchange in the clip below.
Sheeran also sat down with Entertainment Tonight's Keltie Knight on the same day as his Access interview and spoke a little bit further on the marriage subject. However, he remained just as vague.
In their conversation, Knight says to him point blank: "I did see on your Instagram that you told someone when you were doing 'Ask Me Anything' that you're already married." Annoyingly, (yeah I said it), Sheeran just shrugs again. Knight explains she's going to move forward with the interview as if he is NOT married and goes on to ask him a few questions about his hypothetical future wedding.
She gleans he will not (slash did not) sing at his own wedding, nor will he ask (or did ask) any of his famous friends to perform, either. However, he admitted he would be willing (or was willing) to have a lesser known talent perform. Knight did get Sheeran to confess, "I don't like large groups of people at the best of times so... I never wanted a wedding that was lots of people."
Very, very interesting, Ed.
All of these interviews were originally set up to discuss Sheeran's new documentary Songwriter, which follows his music writing process. According to Knight, Seaborn does appear in the documentary, but Sheeran explains it's not to exploit their private life together, but rather to show how she fits into his musical journey.
Awww — wifey!
Surely, more information will start to leak out now that we have these interviews. Fans are waiting with bated breath for the wedding deets, Ed. Give the people what they want.