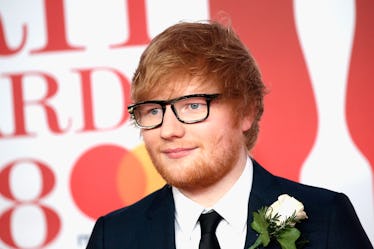 Fans Are Convinced Ed Sheeran Secretly Got Married Because Of This Tiny Detail
John Phillips/Getty Images Entertainment/Getty Images
Hang on, is that what I think it is? Is Ed Sheeran wearing a wedding band? Is Ed Sheeran MARRIED? ED! What happened, bro?! Why didn't you call me? The "Perfect" singer is sporting a band on his ring finger, and obviously, fans are wondering what it's all about. We know he's engaged to his longtime girlfriend, Cherry Seaborn, but it sort of seems like they might have officially tied the knot, too.
After first being photographed wearing the jewelry in a recent performance, Sheeran stepped out at the 2018 BRIT Awards in a fancy suit and the silver ring on full display. Before he stepped on stage to accept the Global Success Award in London, he gave Seaborn a little kiss. But, he did not say anything like, "And I'd like to thank my new wife!" in his acceptance speech. Actually, he didn't mention her at all, now that I think about it.
Of course, Sheeran isn't new to the spotlight and knows the media will pick up on details like a literal wedding band. When Sky News asked him about it directly, Sheeran awkwardly responded, "It's an engagement ring, because I feel like... I don't know, I feel like it's good to both do things."
K...
When pushed about the actual wedding date, Sheeran said, "It will be a situation like this where no one knows." Then, he abruptly ended the conversation.
Hm... have you already said too much, bud?
Fans were all over it, and many people mourned their last chance to somehow meet Sheeran and trick him into falling in love with them.
Oof. Pull yourself together, guys.
Sheeran announced his engagement to Seaborn back in January of 2018, when he posted a polaroid picture of the two kissing on Instagram. He captioned the photo,
Got myself a fiancé just before new year. We are very happy and in love, and our cats are chuffed as well xx
The photo is hanging out with a chill five million likes.
According to E! News, the two have been dating for roughly three years, and met in high school. (I know, "Awww!") Through a series of events, Seaborn ended up attending college in the states at Duke University where she played hockey. Sheeran, ya know, went on to become super famous or whatever.
Seaborn is also the inspiration behind Sheeran's famous song, "Perfect," which is just honestly too much. In October of 2017, he talked to Radio.com about his relationship and explained how "Perfect" came about. When asked if Seaborn could be "the one," he said, "Undoubtedly, undoubtedly."
He added, "But, I think if you ever enter into a long-term relationship and you have a doubt, then you shouldn't be in the long-term relationship."
Sheeran also got candid about how he expected his love life to look, explaining,
I actually always thought I'd end up dating like an actress or something, someone in the industry. But I don't think I'm that kind of person. I'm a hometown boy.
As far as "Perfect" goes, Sheeran said he and Seaborn were hanging out at his friend James Blunt's house in Ibiza when the night took a really fun turn. He said,
We got really hammered and took our shoes off and danced on his lawn and then jumped in the pool. And then the next day I was like, 'that's a cool story,' so I put it in a song.
You guys know the lyrics:
Baby, I'm dancing in the dark with you between my arms / Barefoot on the grass, listening to our favorite song / When you said you looked a mess, I whispered underneath my breath / But you heard it, darling, you look perfect tonight
BUT HOW'D SHE LOOK AT YOUR SECRET WEDDING, ED?
If you did get married, congratulations! If not, still congratulations! Please, try to keep us posted.
Check out the entire Gen Why series and other videos on Facebook and the Bustle app across Apple TV, Roku, and Amazon Fire TV.