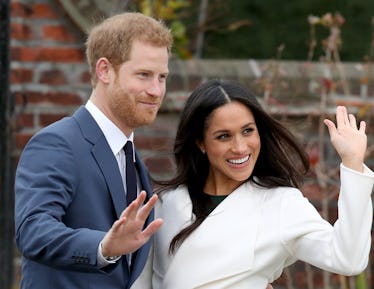 Prince Harry & Meghan Markle Just Got Engaged But Fans Are Already Wondering About Kids
Chris Jackson/Getty Images Entertainment/Getty Images
It's been exactly, like, three hours since we learned that Prince Harry proposed to American actress Meghan Markle. Already, we have a million questions. When is the wedding? What does the ring look like? Am I going to be a bridesmaid? Do Prince Harry and Meghan Markle want kids? You guys get the picture.
More than anything, we're just so excited to watch this family keep growing — and just think about how cute were their children will be!
I'm not trying to get ahead of myself here, I'm just saying the idea of wee ones running around Buckingham Palace and hanging out with little George warms my heart in an unnaturally intense way.
Markle and Harry announced their engagement on the morning of Nov. 27 with an official statement from the Clarence House. It said,
His Royal Highness The Prince of Wales is delighted to announce the engagement of Prince Harry to Ms. Meghan Markle. The wedding will take place in Spring 2018. Further details about the wedding day will be announced in due course. His Royal Highness and Ms. Markle became engaged in London earlier this month. Prince Harry has informed Her Majesty The Queen and other close members of his family. Prince Harry has also sought and received the blessing of Ms. Markle's parents. The couple will live in Nottingham Cottage at Kensington Palace.
Quickly, the royal family showed their support.
The Queen and Duke of Edinburgh are "delighted for the couple and wish them every happiness."
Additionally, Kensington Palace tweeted,
The Duke and Duchess of Cambridge said of the engagement: 'We are very excited for Harry and Meghan. It has been wonderful getting to know Meghan and to see how happy she and Harry are together.'
BUT WHAT DOES THIS ALL MEAN FOR THEIR FUTURE CHILDREN?
Look, the royal lineage and royal titles process is pretty confusing. I'm going to do my best here.
If Prince Harry and Markle decide they do want to have children, their kids will not be outright considered princes or princesses. Instead, they will be called lords or ladies.
Here's whats up: According to Independent, it's all thanks to some rules that were set in place by Harry's great-great-grandfather, King George V. In 1917, he issued a Letters Patent (like a fancy piece of paper, probably) that said:
...the grandchildren of the sons of any such Sovereign in the direct male line (save only the eldest living son of the eldest son of the Prince of Wales) shall have and enjoy in all occasions the style and title enjoyed by the children of Dukes of these Our Realms.
BUT! There's a loophole. If the Queen says it's cool to call their babies princes and princesses, then it's all good. In fact, when Kate Middleton was pregnant back in 2012, the Queen issued a Letters Patent that said,
... all the children of the eldest son of the Prince of Wales should have and enjoy the style, title and attribute of royal highness with the titular dignity of Prince or Princess prefixed to their Christian names or with such other titles of honour.
So, Prince William's babes are a go. Now, we just have to wait and see what happens if/when Markle and Harry decide to have babies.
More than anything, we're just so happy these two found one another! Markle explained in a recent interview with Vanity Fair,
We're a couple. We're in love. I'm sure there will be a time when we will have to come forward and present ourselves and have stories to tell, but I hope what people will understand is that this is our time. This is for us. It's part of what makes it so special, that it's just ours. But we're happy. Personally, I love a great love story.
And what a great love story this is, Meghan.
Check out the entire Gen Why series and other videos on Facebook and the Bustle app across Apple TV, Roku, and Amazon Fire TV.