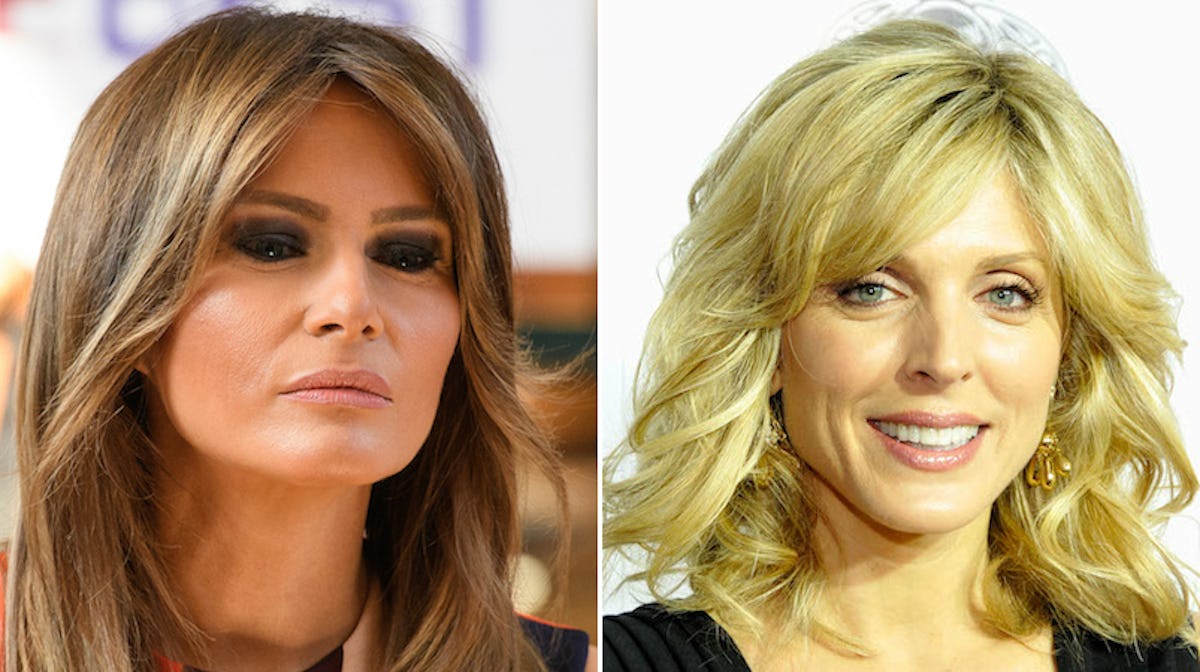 These Clues Show Marla Maples & Melania Trump's Relationship Might Be Complicated
Leon Neal/Getty Images News/Getty Images//John M. Heller/Getty Images Entertainment/Getty Images
Before there was Melania and Donald Trump, it was Trump and Marla Maples. The latter were married for roughly six years before they divorced in 1999, and after their split Maples relocated across the country with their young daughter Tiffany, while Trump appeared to have moved on with Melania immediately. IDK about you, but the situation has me questioning what the deal really is with these two women — specifically, if Marla Maples and Melania Trump get along, all things considered.
It's a pretty complicated answer, TBH. While there's not a lot of info out there about Maples and Melania's relationship specifically, the circumstances in which Melania entered Trump's life certainly signal that there might have been some tensions between the two women at one point, at least. For starters, Melania met Trump at a Fashion Week party back in 1998 — while he was still married to (but separated from) Maples. Although they were pretty much over at the time, Maples later cited the reason for their split as her inability to "change" him in an interview with The New York Post — so you'd think it might've been a little bittersweet for Maples to see him moving on in a seemingly healthy relationship with someone else.
Additionally, Maples had moved to Calabasas, California with her and Trump's daughter, Tiffany, following the divorce, while he stayed in New York. Apparently, Trump didn't see much of Tiffany during her childhood, as evidenced by comments the 24-year-old made to Business Insider in 2015, in which she claimed she "[didn't] know" what it was like to have a typical father figure. "I don't know what it's like to have a typical father figure," she explained to the outlet. "He's not the dad who's going to take me to the beach and go swimming."
Meanwhile, Melania raved about Trump's parenting skills to People the same year, telling the outlet that he was a very "hands-on" father who had a "beautiful relationship full of respect and love" with their 12-year-old son Barron. The admission could have been what prompted Maples to further open up about Trump and Tiffany's relationship in a 2016 interview with The New York Times — wherein she claimed her daughter wanted to get closer to Trump and build a relationship with him, similar to those of her siblings. "She'd like to get to know her father better and spend time with him like his other children did: by going to his office and watching him work," said Maples.
But for what it's worth, the dynamic between Maples and Melania appears to be on somewhat of an upswing since early 2017, when Trump moved to Washington D.C., where Tiffany is currently enrolled in law school at Georgetown University. In fact, Maples had a front row seat at Trump's inauguration and she'd even documented the groundbreaking moment on social media through numerous photos and videos.
Plus, Tiffany has seemingly become pretty fond of her stepmother over the past couple of years, so you'd think that would have go a long way in strengthening the relationship between her mother and Melania, too. Tiffany notably paid tribute to the first lady on her birthday on April 26, when she shared a photo of herself standing next to Melania smiling, and captioned the photo, "Happy birthday @flotus. Love you!"
And if she likes her, then maybe Maples can, too? Maybe?
Anything's possible. At least the two seem to be on the right path, for now.