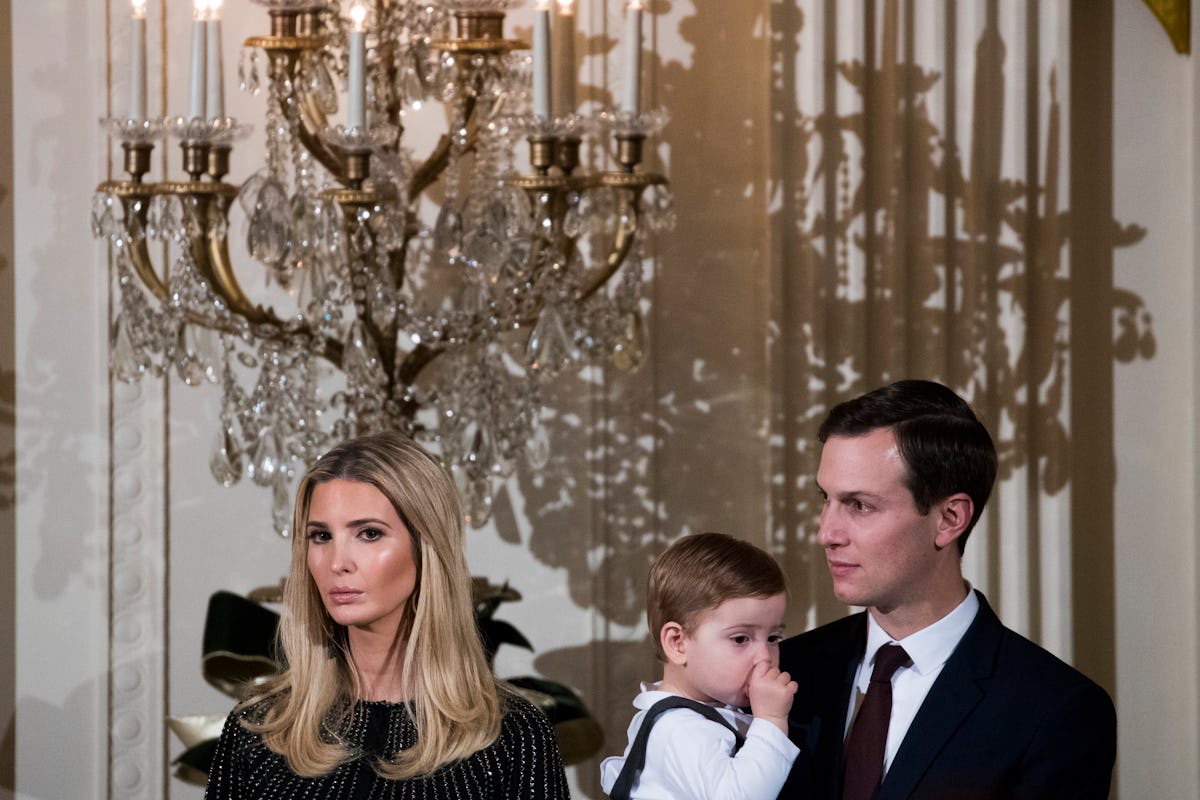 Ivanka Trump's Holiday Instagram Post Is Super Festive, & We're Not Surprised
Drew Angerer/Getty Images News/Getty Images
Ivanka Trump and her family are preparing to celebrate the holidays, after Trump shared a festive Instagram photo on Dec. 12 of herself alongside her husband, Jared Kushner, and their three children posing in front of a lit menorah. Trump wrote in a caption, "Happy Chanukah!" to celebrate the Jewish holiday. This clearly festive post has some people wondering, do Ivanka Trump and Jared Kushner celebrate Hanukkah?
According to the Instagram, the family seems pretty traditional in their observance of the winter holiday. The snapshot shows the family of five smiling while lighting the candles on the menorah on the first of Hanukkah's eight nights.
For those who don't know, Trump has openly discussed her conversion to Judaism, which happened shortly after her and Kushner got together, before they got married. In an 2015 interview with Vogue, Trump referred to her spiritual practices in Judaism as "such a personal thing." She went on to talk about her and Kushner's religion, saying, "We're pretty observant, more than some, less than others... It's been such a great life decision for me. I am very modern, but I'm also a very traditional person, and I think that's an interesting juxtaposition in how I was raised as well. I really find that with Judaism, it creates an amazing blueprint for family connectivity."
Judaism is so important to the two of them, that they reportedly broke up temporarily in 2008 because Trump wasn't Jewish. Supposedly, a source close to the family told Esquire that Kushner's father gave her a test to prove her true commitment to Judaism. "This wasn't like, 'Talk to a rabbi, read a couple of paragraphs' ... It was hard and difficult, and it was on Charlie's [Kushner's father] terms."
Trump and Kushner reportedly observe Orthodox Jewish traditions and duties, including observing the Sabbath every week.
Trump and Kushner have raised their three kids, Arabella, 6, Joseph, 4, and Theodore, 1, in the Jewish tradition as well. Last year, they celebrated the Hanukkah season in Hawaii, shortly after her father's election. The family took a similar picture last year in Hawaii, which Trump tweeted out. She wrote, "This year is one of the rare and special occasions where Hanukkah and Christmas coincide. Merry Christmas & Happy Hanukkah! #happyholidays."
This year, Trump, Kusher, and their three kids attended the White House Hanukkah party on Thursday, Dec. 7, as well as the White House Christmas party on Dec. 12, hosted by President Donald Trump. The festive Hanukkah party had its own controversies, after the president did not invite Democratic lawmakers or Reform Jewish leaders to the Hanukkah party. To boot, just a day before the Hanukkah party on Dec. 6, Donald Trump made a controversial public statement recognizing Jerusalem as the capital of Israel. Donald Trump also offered sentiments expressing his solidarity with Jewish people and saying, "The miracle of Hanukkah is the miracle of Israel" in his official White House Hanukkah greeting.
Donald Trump's decision to recognize Jerusalem as the capital, and therefore move the U.S. Embassy, has angered many world leaders who have predicted that this move could cause a Middle East disaster. After Donald Trump's decision, leaders from eight countries that have U.S. alliances, like Britain, France, and Italy, requested an emergency United Nations Security Council meeting to discuss their concerns. Many people also shared their concerns with the decision via Ivanka Trump's Instagram post. On a photo from the White House's Hanukkah party, some commented with Arabic hashtags that translate to "Jerusalem is the eternal capital of Palestine" and #SavePalestine, according to Yahoo News.
Donald Trump's celebration of the Jewish holiday comes shortly after he supposedly ended the so-called "war on Christmas" by writing "Merry Christmas" on the White House holiday card. (At recent rallies, President Trump has also discussed "bringing Christmas back" by vowing to say the word "Christmas" again.) Many presidents, including former President Barack Obama and George W. Bush, swapped "Merry Christmas" for the more politically correct "Happy Holidays," while still decorating the White House with Christmas decor. But when has our president ever followed his predecessors?
Now that we know the pressing question of whether Trump and Kushner celebrate Hanukkah or not, maybe we can keep our eyes out for any unfolding chaos in the Middle East after Trump's Jerusalem announcement.