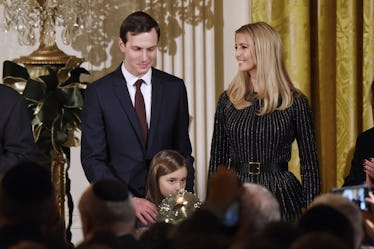 Ivanka Trump & Jared Kushner's Kids Got Involved In The White House Hanukkah Party
Pool/Getty Images News/Getty Images
While people are busy gearing up for the start of December holidays, the Trump crew was out in full force this week to celebrate the Jewish Festival of Lights. President Donald Trump's daughter and son-in-law Ivanka Trump and Jared Kushner attended the Hanukkah Party at the White House with all three kids in tow. The reception took place in the East Room on Thursday, Dec. 7, five days prior to the start of Hanukkah.
Photos and videos of the event show a festive affair. Trump garnered some cred with her Alexander McQueen black and gold shirt-and-sweater ensemble (which apparently cost $3,200 by the way, according to the Daily Mail). But it was her two eldest children, 6-year-old Arabella and 4-year-old Joseph, who took the cake. They certainly brightened the stage as they lit the Menorah's first candle alongside Orthodox Rabbi Meir Soloveichik. Meanwhile, the crowd sang "Ma'oz Tzur," a lyric poem traditionally sung on Hanukkah following the lighting ceremony.
The White House Hanukkah party is an annual tradition that started in 2001 under President George W. Bush, when he was the first in office to begin lighting the Menorah inside the White House. The Obamas carried on the tradition, hosting guests to for the lighting ceremony and reception. This year marks the first Hanukkah for the Trump family in office.
The first daughter converted to Orthodox Judaism several years ago while dating Kushner, and it was reportedly a big make-or-break-it for their relationship. In fact, the couple temporarily broke up in 2008 because Trump wasn't Jewish, and it apparently took some work to get Kushner's family on board. (Kushner's father, Charles, as one source familiar with their relationship told Esquire, even gave Ivanka a test. "This wasn't like, 'Talk to a rabbi, read a couple of paragraphs' ... It was hard and difficult, and it was on Charlie's terms." She passed, by the way.)
The Trump-Kushner family generally adheres fairly closely to their Orthodox Jewish duties. They observe the Sabbath every week, which includes refraining from using electronics or traveling by vehicle or machine. (Though they've gotten an official pass to break the Sabbath rules at least once.)
Hanukkah this year runs Tuesday, Dec. 12 to Wednesday, Dec. 20. Though President Donald Trump had in the past given his predecessor Barack Obama a hard time about holding the party early before jetting off for a winter getaway, that's basically what he did this year.
"Tonight, @FLOTUS Melania and I were thrilled to welcome so many wonderful friends to the @WhiteHouse," tweeted President Trump on Thursday, adding he wished them a happy Hanukkah.
And when Trump says his friends, that's actually fairly accurate. According to The New York Times, the party was pretty much limited to his supporters.
This year's party was decidedly smaller than in previous years — about one-sixth the size, in fact. In an unprecedented move, the president eliminated from the invite list Jewish Democratic members of Congress, plus Reform Jewish leaders and progressive Jewish activists.
The president said it would be an "especially special" Hanukkah celebration this year, and that's, well, one way of describing it. "I know for a fact there are a lot of happy people in this room," he added.
But it wasn't all smiles and joy for many, as the party came on the heels of Trump's annoucement that he'd be moving the U.S embassy in Israel from Tel Aviv to Jersualem, which could prompt major upheaval and conflict in the region whose resolution is uncertain.
Fortunately for everyone else who wasn't invited (or was simply too stressed about the Jerusalem decision to enjoy it), at least there were adorable photos of the Trump-Kushner children to look at.