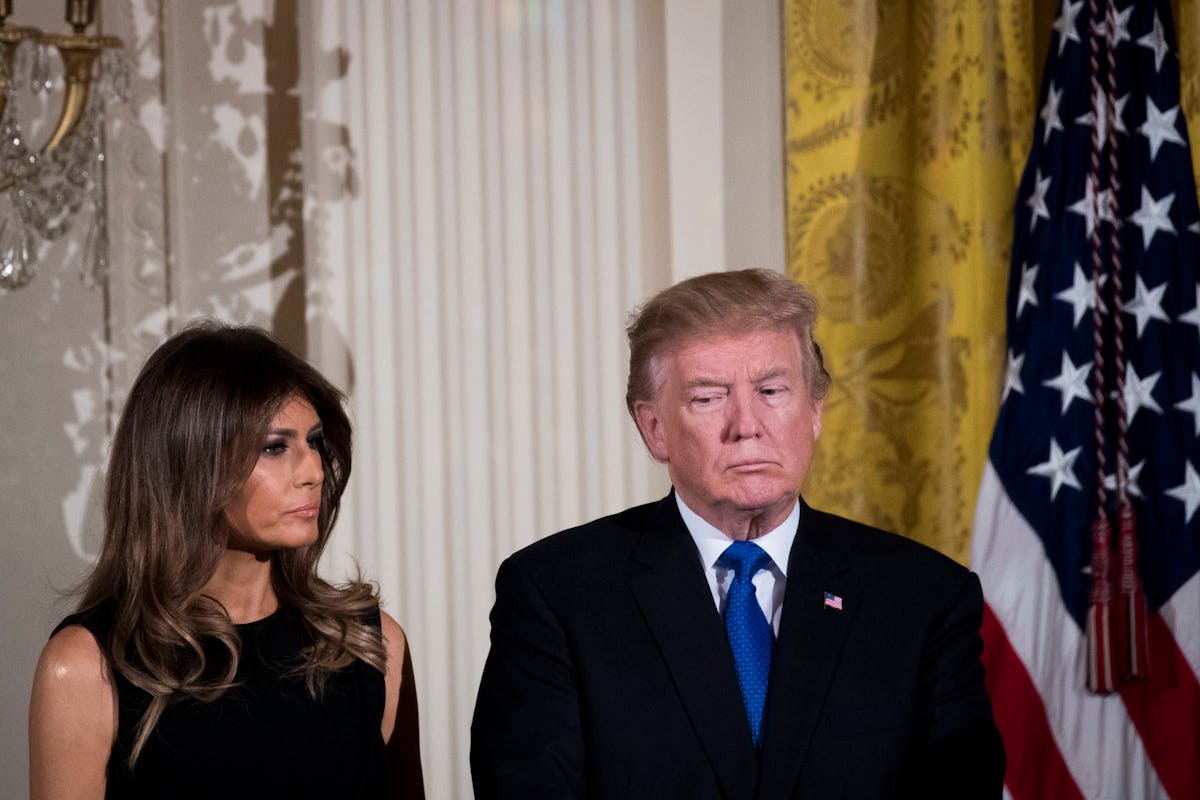 Trump's Tweet About Obama's Hanukkah Party Is Pretty Embarrassing Right Now
Drew Angerer/Getty Images News/Getty Images
On Thursday, Dec. 7, the White House held its first Hanukkah Party under President Donald Trump. But attention is being drawn to his predecessor, former President Barack Obama, over a years-old tweet. A 2011 Trump tweet about Obama's Hanukkah party criticized the leader for hosting the celebration early... and then Trump's 2017 celebration was also held in advance of the holiday.
A tweet dated Dec. 9, 2011 from Trump read, "Why was the Hanukah celebration held in the White House two weeks early? @BarackObama wants to vacation in Hawaii in late December. Sad." That year, the eight-day Jewish holiday fell on Dec. 20 to Dec. 28.
This year, Hanukkah begins on Tuesday, Dec. 12 and ends on Wednesday, Dec. 20. So going by the Obama criticism framework, the Trump party, which was held at the White House on Dec. 7, was also premature.
While Trump called out Obama's Hawaii trip that December (which did happen), citing it as the reason the president held the celebration early, it looks like that may be the case again for 2017. Trump himself is set to arrive at his Mar-a-Lago resort in Florida on Friday, marking his ninth visit there this year. The similarities of his plans to his predecessor's weren't lost on people.
Users were quick to catch the hypocrisy on social media.
NBC news correspondent Peter Alexander quoted the tweet, adding, "You can't make this stuff up: Trump held Hanukkah celebration tonight, five days early, ahead of his Mar-a-Lago getaway."
Yair Rosenberg of Tablet Magazine suggested that the president did this to himself. "Tonight, Trump is hosting the White House Hanukkah party. Hanukkah is next week. In an early holiday miracle, this Trump tweet lasted for six years and came back to burn him."
Trump's Party Was "Especially Special," According To Him.
"I know for a fact there are a lot of happy people in this room," Politico reports Trump saying as he joined the party. "This one will go down as especially special."
Apparently it was so special that not everyone was allowed to attend. Breaking years of presidential tradition for the annual celebration, Trump scrapped the guest list. Democratic members of Congress didn't get an invite, nor did Reform Jewish leaders and progressive Jewish activists who've been openly critical of his administration, according to the New York Times.
"Lamb chops & latkes, but only for presidential allies," wrote Times reporter Julie Davis in a tweet.
In past years, the White House has apparently hosted as many 1,700 guests for their Hanukkah celebrations. This year, the guest list was whittled down to about 300. The exclusion included the 28 Jewish Democrats in Congress, among them Sen. Bernie Sanders (D-VT) and Rep. Adam Schiff (D-CA), according to Newsweek.
"It's deeply unfortunate that the White House Hanukkah Party — a bipartisan event bringing together Jewish and non-Jewish leaders alike to celebrate the Festival of Lights since 2001 — has turned into a partisan affair under this administration," said Rep. Nita Lowery (D-NY) in a statment, per the Times.
But this year's celebration was unique not just for its trimmed-down guest list. The party came on the heels of news that Trump has decided to move the U.S. embassy in Israel from Tel Aviv to Jerusalem, the latter which he called the true capital. The move was highly volatile for American diplomacy, igniting controversy almost immediately. On Friday, hundreds in the region had been injured in protests over Trump's decision, which have been going for three days, Al Jazeera reports.
But despite the uproar his decision provoked, Trump seemed to be quite proud of the move, and said the celebration was "all about Jerusalem," Politico reports.
If he's bruised at all after being called out, though, Trump will have to lick his wounds from Florida, where he's expected to spend the weekend.