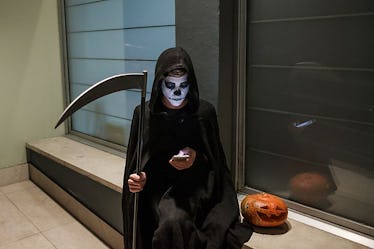 Spooky iPhone 9 Costume Ideas That'll Make You Remember The Forgotten Device
The iPhone 9 was a great iPhone from Cupertino, California. It had cool features, was definitely a smidgen better than the iPhone 8, but could never compete with its arch-nemesis known as the iPhone X... just kidding! The iPhone 9 never got a chance to exist, because Apple weirdly decided to skip over the last single digit. We could sit here all day and think about what might've been — a slightly higher quality camera or a new accent for Siri? — but really, there's no time like Halloween to honor ye ole forgotten device with ghostly DIY iPhone 9 costume ideas.
Though Apple fans anticipated the iPhone 8's release this Sept. 2017, no one saw the iPhone X coming. iPhone 9 "rumors" swirled before the tech company's jaw-dropping keynote presentation on Tuesday, Sept. 12. The iPhone 9 would have an LG battery, the rumors suggested. However, as we now know, it does not even have a battery because IT DOES NOT EXIST.
I imagine the iPhone 9's tombstone outside the Steve Jobs Theater in Cupertino reads something like, "Here lies the iPhone 9. An idea that never happened due to Apple's 10 year anniversary. RIP, fleeting thought."
In a press release uploaded to the Apple Newsroom after the keynote, Apple's chief design officer Jony Ive explained the company's future-forward move. Ive said in a statement,
For more than a decade, our intention has been to create an iPhone that is all display. The iPhone X is the realization of that vision. With the introduction of iPhone ten years ago, we revolutionized the mobile phone with Multi-Touch. iPhone X marks a new era for iPhone — one in which the device disappears into the experience.
While Ive doesn't explicitly confirm Apple's decision to skip creating an iPhone 9, it's sort of implied when they mention a "new era for iPhone." Oh, little nine! Thou shalt be known henceforth as the Casper of iPhones — a friendly ghost.
Because of its nonexistent nature, the perfect iPhone 9 Halloween costume is equal parts ghost and iPhone. What does that look like, you ask? Well, keep reading for a Siri-approved DIY you can throw together for any last-minute Halloween shindig.
For the ghost part:
To achieve a ghostly look, you could purchase a ready-made costume like this Fun World Gossamer Ghost Costume ($32.90) from Target, or you could craft the classic sheet with two eye holes ensemble. It's up to you, but the Target option will definitely look a tad more updated and current (aka what the iPhone 9 might've been had the X not stolen its thunder).
For the iPhone part:
Since the iPhone 9 doesn't actually exist, there are a few simple ways to go about creating the costume.
Print out a large version of the iPhone logo and the number nine. Safety pin them to the front of your ghost costume and, using a black marker, draw a phone-shaped, vertical rectangle around them. It's low-budget, easy, and gets the point across.
Print out a large photo of the iPhone 8 (it's the closest thing!). Use Mod Podge to adhere your printout to a rectangular piece of cardboard. On the phone's screen, write a giant "9" in black ink. Punch a hole through the top of the cardboard and thread a piece of kitchen twine through the hole, creating a necklace of sorts. Once that's made, just drape your iPhone 9 necklace over your ghost costume. Done!
Print out a large cartoon tombstone (search Google images to find one you like). On the tombstone write, "RIP iPhone 9." Use safety pins or a hot glue gun to attach it to the center of your ghost costume for a wearable memorial.
And that, iPhone users, is how to low-key morph into a friendly, techie ghost this Halloween. The only thing left to do is take lots and lots of photos in portrait mode!