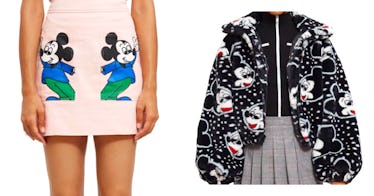 This New Disney Clothing Drop Is The Chicest Mickey Has Ever Looked & It's Magical
Opening Ceremony
Do you remember earlier this year during fashion month when a brand shut down Disneyland's Toontown to use it as the backdrop of their Mickey Mouse-themed runway show? That. Was. Epic. And now, after much anticipation the clothes from that fashion show have dropped. Disney x Opening Ceremony's collection just became available to buy and while it definitely doesn't offer the cheapest Mickey products out there (check out Vans' recent Mickey collaboration) it certainly offers the most luxuriously cool. If you're a super fan of the cartoon mouse (or you like quality clothing that doesn't take itself too seriously) this is one collection you're going to want to save up for.
The occasion for Opening Ceremony's (and Vans') collaboration with Disney is a very, very exciting one. Mickey is turning 90 next month (HBD!) and his creators are helping ensure he rings in his birthday in style. For Humberto Leon and Carol Lim, that meant everything from super fuzzy faux fur coats, silk ground-grazing gowns, and cozy sweatshirts all emblazoned with the mouse's face. While some items from the collection still have yet to be released, the ones you can shop now are so good that I guarantee you'll be satisfied with the selection.
Happy birthday, Mickey—I hope it's as magical as these clothes.
Neon Dreams
Mickey, but in psychedelic form. This blinding hoodie is the perfect piece to live in on weekends—and who knows, it might even react under blacklight.
A Look
Is it just me, or did Leon and Lim borrow design inspiration from another Disney movie for this gown? Beauty and the Beast's Belle would rock this frock. (And I could only dream of doing so.)
Fluff Piece
Bomber meets shearling meets Mickey. This jacket boasts a loud silhouette with a playful print to match. Paired with jeans and patent black booties it would make for the cutest fall weekend look ever.
Pocket Play
Good miniskirts are underrated, especially when they boast outfit-making designs or prints. This pink one features two oversized pockets which are both stamped with Mickey Mouse motifs and give it a cool vintage feel. Pair it with a white tee and sneakers for a comfy and casual look, or dress it up with a black chiffon blouse and heeled booties.
Throw It Back
This fabric looks like it's been faded by years of sun exposure, giving it this super sweet vintage charm. It's light blue background and mickey mouse print add to its charm. Cut into the shape of a beautifully ruffly dress, it's a retro lover's dream.
Sketched Out
When art meets, well, art. These sweatpants, which are bound to be super comfortable knowing Opening Ceremony's standards, feature sketches of Mickey Mouse and hand-doodled lettering for a bright and unique effect. It reminds me of seeing the original sketches of Mickey that were later turned into the cartoons we know and love now. The pants are a cute homage to the mouse's humble beginnings and meteoric rise.