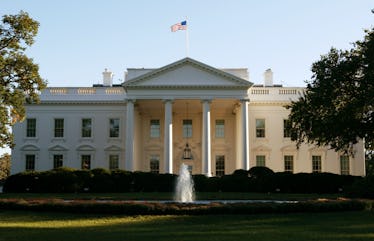 Democrats Aren't Going To Retake All Of Congress, But There's Still Hope For Them
Alex Wong/Getty Images News/Getty Images
Depending on where you stand, you might say it's been a rather tumultuous two years since the last election in November of 2016. Hopefully, you had the chance to vote in the Nov. 6 midterm elections in 2018, however, because it determined whether or not Democrats would ultimately take back the Senate. So, you might be wondering, "Did Democrats flip the Senate in the 2018 midterms?" Doing so could have actually lead to some major changes within the government.
If you haven't heard about the midterm election results, unfortunately, the Democrats weren't able to flip the Senate. Republicans will hold onto their Senate majority. However, CNN reports that Democrats have flipped the U.S. House of Representatives. So, while they weren't able to flip both sides of Congress, they were able to make some major strides in the House of Representatives.
Prior to the latest midterm elections this past November, there were 26 seats that were held down by Democrats, and unfortunately, each of them were up for election. Essentially, that meant they needed to re-secure all of them, while also flipping a few red seats to take back the senate. What that means is that they needed to win 28 out of 35 seats to take over the election, and they weren't able to make that work. As of Tuesday, Nov. 6 at 11:00 p.m., the exact sizes of each party weren't readily available, but it wasn't enough to flip the Senate. Republicans, on the other hand, only needed to maintain nine of their seats to keep their power, which wasn't too hard. Democrats only had a 20 percent chance of winning it back, and they didn't. While it wasn't much of a surprise to many, Democrats were hoping they would be able to make it happen.
If Democrats did reclaim the Senate, it would've been be a pretty major turning point in the government. While it would've been a pretty big surprise, it would have totally flipped what's been going on in the world of politics. Republicans and Trump would take a totally different approach towards campaigning, and there would most likely have been a lot of issues fought in relation to Trump's presidency. There would likely have been a major re-approach to health care, and there would have also likely been increased tension in regard to the judicial system.
Assuming you voted like a caring U.S. citizen, you should go ahead and use Snapchat's "I Voted!" filter — you deserve it. It's super fun, and it shows off the fact you did a good deed for the country. Definitely check it out, if you haven't already.
As you've probably known for many years, voting is incredibly important, and it's your civil duty to do so. Even though the democrats didn't take back the Senate, there's still a lot of changes that can be done especially now that Democrats have taken control of the House of Representatives. Make sure to keep voting, and do whatever you can to make change in the U.S. government. A little work will definitely go a long way.