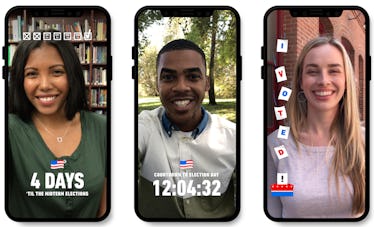 Snapchat's "I Voted" Filter Will Let You Show Your Voter Pride During The Midterms
Courtesy of Snapchat
The midterm elections are coming up quick, and Snapchat wants to make sure its users are ready for 'em. The company has shown its support for young voters in the past by helping Snapchatters register to vote — and now, it's implementing more features that'll make voters feel proud. In fact, Snapchat's "I Voted" Filter for the 2018 midterms is just one feature that'll let voters share their pride. It's basically a virtual version of the "I Voted" sticker — and you'll want to try it out as soon as you leave the polls on Nov. 6.
Before you rock the "I Voted" look, you might want to check out the other voting-inspired Nationwide Filters that Snapchat will make available within the six days leading up to the elections. According to Snapchat, the company will release filters that'll help users count down the days until Nov. 6, 2018. Not only will these filters help users keep of track of time, but they'll also help everyone remind their friends to get out and vote.
In other words, make sure to flaunt Snapchat's countdown filters prior to the midterm elections. Before you know it, you'll be able to work the "I Voted" Filter — and that's exciting.
As you can see, Snapchat's "I Voted" Filter is simple, yet effective. It shows tiny pieces of paper (representing the ballots, I'm assuming) falling into a voting box. Each piece of paper has a letter on it, and they collectively spell out, "I VOTED!" How cool is that? TBH, I can't wait to use that filter after I vote on Nov. 6. If you like using Face Lenses more than filters, don't fret. According to Snapchat, voting-themed Face Lenses will also be available in honor of the midterm elections.
Nationwide Filters and Face Lenses aren't the only features that Snapchat is using to honor the midterm elections. The company is also helping users familiarize themselves with their local ballots. In order to do so, Snapchat will link Ballot Ready to Snap Map so users can easily explore their voting options. That way, everyone will be totally prepared when they arrive at the polls.
When Election Day finally comes, Snapchat will remind its users to go vote by sending those who are over 18 years old a Nationwide Snap. According to the company, the Snap will help users find their closest polling locations by linking to Get To The Polls. Once a user opens the link, they'll be able to type in their address and find out where they can vote in the midterm elections. Could it get any easier than that? I don't think so.
As you can see, Snapchat is making it possible for its users to get involved with the midterm elections as Nov. 6 approaches. Between National Filters, Face Lenses, and helpful links, Snapchat users across the United States will be able to inspire their friends to vote — and most importantly, show off their pride after they've visited the polls.