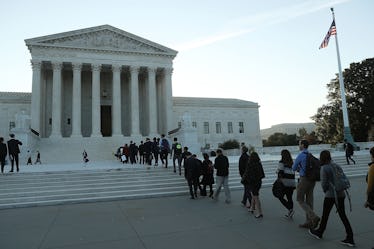 Democrats Will Have A Tough Battle When It Comes To Flipping The Senate
Mark Wilson/Getty Images News/Getty Images
As we get closer to the November midterms, the heat is truly on for individuals to try to make actual change happen by getting to the polls. For a lot of individuals, these elections represent the moment that Democrats might actually be able to become the majority in major government branches. So, for those wondering how many Democrats are needed to flip the Senate, here's some information.
With 35 Senate seats up for grabs in the 2018 midterms and the majority of them defended by Democrats, it'll be an uphill battle. Currently, 26 of the seats up for election are held by Democrats, meaning that the party will need to not only successfully defend all their seats but flip seats in a few Republican held-states to take control. Ultimately, Democrats need to win 28 seats out of the 35 in order to take control of the Senate. In comparison, Republicans only need to hold all nine of their seats in order to remain in control, per The New York Times. And while Democrats are doing well in polls, statistics website FiveThirtyEight gives Democrats only a one-in-five chance at winning the Senate. Not great, but not impossible.
I don't know about y'all, but conversations about which political party will seize the Senate feels like an adult tug o' war game. Of course, there's only one thing to do if you want to see your political party (whichever one that is) represent the majority of the Senate, and that's vote. Tuesday, Nov. 6, marks the November midterm elections, and it's up to all of us to cast our votes and make our voices heard.
So no matter who has your vote, here's what to do for the upcoming midterm elections. First, you'll have to be registered to vote in your state. Not sure if you're registered? All you have to do is head over to Vote.org, plug in some basic information, and it'll let you know whether you're registered to vote or not. If you're not, registering to vote is simple, straightforward, and literally only takes two minutes to do. Best of all? You don't even have to switch websites, because Vote.org has a voter registration form that couldn't be any easier to fill out.
It's no secret that voter turnout has been low in the United States over the past few years, but it looks like things might be changing for the upcoming midterm elections. On Oct. 3, Pew Research Center reported that voter turnout in House primary races increased significantly compared to the 2014 midterms, particularly among Democratic voters. According to Pew, there was a 56 percent increase in turnout from 2014, with nearly one-fifth of registered voters, or about 37 million people, casting ballots in the House primary. It's a significant increase from the last midterm election primaries, in which only 13 percent of registered voters showed up to the polls. In addition, a Pew survey found that voter enthusiasm is the highest it's even been in regards to midterm elections over the past two decades.
It clearly takes a controversial political climate to bring out the voter in everyone, but a little celebrity influence never hurt either. As the November midterms get closer, celebrities ranging from President Barack Obama to Taylor Swift are urging the public to get to the polls and make your voice heard.
Nov. 6 will be here sooner than we realize, people. Circle that date on your calendar, get your ballot ready, and rock that vote.