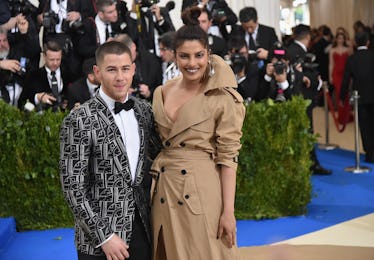 Here's Why Fans Think Nick Jonas' New Steamy AF Song Is About Priyanka Chopra
Mike Coppola/Getty Images Entertainment/Getty Images
Though Nick Jonas and Priyanka Chopra are seemingly in engagement bliss, their whirlwind romance has left many onlookers a bit puzzled. Outside of a few lovey-dovey Instagram moments, the two have barely commented on their relationship publicly, which has people questioning just how the pair truly feels about each other. Plus, the singer recently released some steamy new music, which prompts even more questions, like: did Nick Jonas write a song about Priyanka Chopra? It sounds like his single "Right Now" is probably, definitely about his fiancée. Elite Daily reached out to Jonas' teams for comment on whether or not the song is about Chopra but did not hear back at the time of publication.
Jonas released the single on Friday, Aug. 24, which features nothing but romantic lyrics, per E! Online. He sings:
Right now, you know I miss your body / So I won't kiss nobody until you come back home / And I swear, the next time that I hold you / I won't let you go nowhere / You'll never be alone, I'll never let you go.
"You are my water, my sun, my moon and stars / Your heart is all I need," Nick sings in the track. "It start when you come / I want to be where you are, where you are (na, na)."
Yep, it sounds like this jam could totally be about Chopra. After all, who else would he be referring to as his water, sun, moon and stars other than his beloved fiancée?
Although Jonas has yet to comment on the nature of the song, the timing of its release seems pretty key. Jonas and Chopra announced their engagement just days ago, on Aug. 18, after dating in the spotlight for two months. The announcement came in the form of matching Instagram posts, which show the singer gazing lovingly into Chopra's eyes. He captioned the sweet moment, "Future Mrs. Jonas. My heart. My love."
Chopra shared the same image, where her gorgeous sparkler is on full display, about an hour after her fiancé's post. Her caption read, "Taken.. With all my heart and soul.."
The cuteness doesn't stop there. Chopra and Jonas reportedly got engaged a month before they shared the news with the world, on July 18 — the Quantico actress' 36th birthday. The pair was vacationing together in London at the time, when Jonas reportedly popped the question with a ring he got from Tiffany's in a "private and romantic" setting. As for the sparkler that you probably couldn't stop swooning over, Jonas is rumored to have shut down the entire store to find it ahead of their trip. (True relationship goals.) Elite Daily reached out to the couple at the time of the reports but did not hear back.
You know, in hindsight, it looks like there has been more than enough intel on how these two feel about each other. While you'll still have to wait for them to discuss their love publicly, it seems as though Jonas just laid out everything he had to say about his woman with this new single — and TBH, it could not be more satisfying.