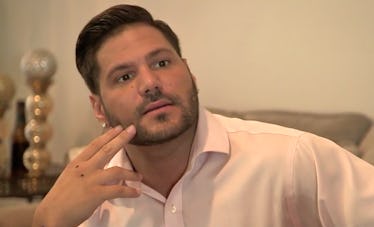 Ronnie Opened Up About Jen Allegedly Dragging Him With Her Car On 'Jersey Shore'
MTV
The ongoing saga of Ronnie Ortiz-Magro and his maybe-girlfriend Jen Harley reached peak awkwardness on this week's new episode of Jersey Shore Family Vacation. Last week, the reality show finally caught up to the most shocking moment of the couple's highly volatile relationship: the reports that Jen dragged Ronnie with her car this past summer. Elite Daily reached out to Ronnie's team at the time for comment but did not hear back by the time of publication. Now, Ronnie is talking with his castmates about the incident, and his response to it is really surprising. Did Jen drag Ronnie with her car, or did the whole situation get misconstrued? Ronnie's telling of the event may have caused some confusion for viewers.
First, we should go over the reported events from this summer. On June 24, Jen Harley was arrested on charges of domestic battery in Las Vegas, with reports claiming that she and Ronnie got into a fight while she was driving them and their 2-month-old daughter, Ariana Sky, home from a barbecue. Allegedly, the altercation got physical, and it reportedly led to Jen driving over a median and Ronnie dangling out of the passenger side door as Jen allegedly continued to drive. Elite Daily reached out to Ronnie's team at the time for comment but did not hear back by the time of publication. The whole thing sounded brutal, and it looked even worse when Ronnie showed off his scars from the incident on last week's Jersey Shore Family Vacation, but this week, Ronnie surprised his castmates with his explanation of the situation.
After Ronnie made a surprise appearance at Deena's gender reveal party, Vinny and Mike were eager to sit him down and get the truth about what really happened. But as Ronnie told it, the whole thing was really just a tiny accident:
Yeah, it was an accident ... I got out of the car, she drove off, maybe I think I grabbed onto the door, and I just fell. It was just a bunch of unfortunate events, bro.
So having to go to the hospital and ending up with scars all over his body was just a small accident? Of course, that response confused Vinny and Mike, but what really made their heads spin was Ronnie revealing that he was still trying to make things work with Jen after that whole ordeal.
Both Vinny and Mike voiced their concerns about Ronnie remaining in a relationship with Jen, but decided to support his decision in the end. That support might not last for much longer, though, because the preview of next week's episode of Jersey Shore Family Vacation revealed that Jen will pop up on the show again next Thursday, and per usual, it looks like we will get a front-row seat for another massive fight between her and Ronnie. The final moments of this week's episode even built the tension up, as everyone took notice of Ronnie getting into an intense texting frenzy during dinner.
Although it does look like there is another blow-up coming between them on the show, Ronnie and Jen appear to be together and in a good place right now. Jersey Shore Family Vacation airs Thursday nights at 8 p.m. ET on MTV.