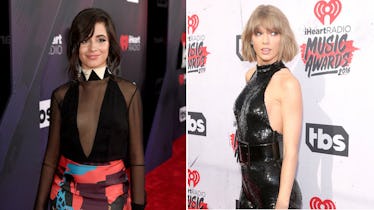 Camila Cabello Calls Out Haters Who Think Taylor Swift Told Her To Leave Fifth Harmony
Neilson Barnard/Jesse Grant/Getty Images Entertainment/Getty Images
Camila Cabello and Taylor Swift are pretty much besties, which is, for me personally, the best thing to envision. Cabello has been very candid about going to Swift for advice, and that warms my heart to no end. But a lot of people thought that Cabello's decision to leave Fifth Harmony was influenced by Taylor Swift, and that Swift was encouraging her to pursue a solo singing career. So, did Camila Cabello leave Fifth Harmony because of Taylor Swift? Cabello went on the Dan Wootton Interview podcast and fully dismissed the idea that Swift had any part in her decision-making to leave the all-girl singing group.
According to The Sun, Cabello opened up about the rumors. "It annoyed me that people said she was encouraging me because I know that she probably got a lot of negative criticism for that," she said. "Absolutely nobody could ever persuade me to do something."
She also reiterated the fact that she doesn't get influenced by anyone around her:
If I don't want to do something the whole world could be telling me and I won't do it. And if I do then the whole world could be telling me to not do it and I'll do it. I've always been that way ... To be honest with you, she's never ever had anything to do with that.
So listen up, fam: Nobody tells Camila Cabello what to do. Not even Taylor Swift.
Get it, girl.
So if you're BFFs with Taylor Swift, then what is it that you do talk about? In her podcast interview, Cabello says, "It's so funny, because when Taylor and I talk and whenever we hang out we talk about love and boys. Our friendship is so ... innocent in that way, and it's so pure."
BRB, turning into a puddle of happiness.
During her interview, Cabello says that she understands why she's always asked about her friend, Tay-Tay. "She's the biggest in the world, so I get that it's interesting to people, but I don't really care. To me she's just my friend."
#FriendshipGoals right there.
And, in case you didn't know, Taylor Swift and Camila Cabello are going on tour together. Cabello will be Swift's opening act for the Reputation Stadium Tour alongside Charli XCX, so you should *highly* consider scoring some tickets any way you can.
At the iHeartRadio Music Awards on Sunday, March 11, Cabello stopped to talk with ET's Keltie Knight and Z100 radio host Elvis Duran about her excitement for the tour. She said, "For me, it's a dream come true. When I first met her [Swift] four years ago, I was like, 'I really love you,' ... I was like, 'Man, I really look up to you. You really inspire me.' She was one of the people that made me wanna start songwriting, so it's really amazing."
It's amazing for Camila, it's amazing for Taylor, and it's definitely amazing to all of their fans.
The idea of Taylor Swift and Camila Cabello touring together has gotten pretty much everyone beyond pumped, because who the hell WOULDN'T want to see the two of them doing their thang on the same stage? (Literally no one.)
Many fans took to Twitter to express their SHEER DELIGHT that this was going to be a thing:
And about that whole "leaving Fifth Harmony" thing: Cabello has opened up in the past about her reasoning for going solo, and it makes sense. In an interview with Net-a-Porter's The EDIT, Cabello revealed the real reason why she's no longer with the group:
With the experiences we had being in the studio, I became super-curious about songwriting and it was around the time — I think it was the second year that I was with the group — that I wanted to start songwriting for other people, ... But once I was old enough to experience my first kiss, or the first time that I went out on a date, I began writing songs about it, and I didn't want to give them away to anybody else because they were about me. I was finding my voice, and with it, I found the passion that gives you a deeper meaning.
Ya heard?
So it wasn't Taylor. It wasn't even Fifth Harmony. It was simply because it's what Camila felt she needed to do.
You do you, boo.