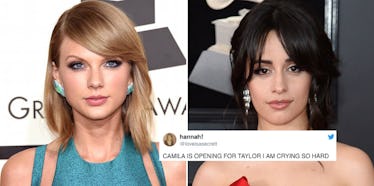 Camila Cabello Is Reportedly Opening For Taylor Swift On Tour & Fans Are Losing It
Jason Merritt/Jamie McCarthy/Getty Images/Twitter
Get ready, Taylor Swift and Camila Cabello fans: Camila Cabello and Taylor Swift are reportedly going on tour together. According to Us Weekly, Cabello is in "final talks" to be the opening act for Swift's Reputation World Tour. She's getting ready to start a short solo tour herself, but she'll join Swift on the road when the dates don't overlap, Us Weekly reports. "Camila is in final talks to open for bestie Taylor's tour," the source revealed. "It's 99 percent a done deal." Shawn Mendes, Vance Joy, and HAIM were the opening acts for Swift's 1989 tour a few years ago, and Cabello actually participated in that tour as well.
UPDATE: On Thursday, March 1, Taylor Swift confirmed Camila Cabello and Charli XCX would be the opening acts for her Reputation World Tour in an Instagram story.
EARLIER: Swift had a special guest artist/celebrity friend take part in the individual shows on her 1989 tour. She brought these artists on stage to perform with her, and some of them included Mick Jagger, Selena Gomez, John Legend, and Justin Timberlake. Fifth Harmony was the special guest when Swift made her stop in Santa Clara, Cali., on Aug. 14, 2015. This was, of course, back before Cabello left Fifth Harmony to pursue her solo career, so there's probably zero chance we're going to see any kind of Fifth Harmony reunion on the Reputation tour if Swift decides to feature guest artists again.
Taylor Swift and Fifth Harmony performed the hit "Worth It" at the 1989 World Tour stop in Santa Clara, Cali.
Cabello is seen strutting down the stage arm-in-arm with Swift as they sing the song, and you can just tell there's a good friendship between the two singers.
Swift and Cabello fans are freaking out over the news that the "Havana" singer will reportedly be opening for Swift's Reputation tour.
Cabello's first solo tour is starting on April 9 in Vancouver, but she's set to perform at the Lollapalooza music festival in Argentina on March 16, and Chile on March 17. The solo tour is for her self-titled first album Camila, but the tour's official name is the Never Be The Same Tour. The tour will come to a close in June, and Swift's Reputation World Tour starts May 8 and will close Nov. 9, so there is a bit of overlap there. But Swift and Cabello's teams will no doubt have all the scheduling kinks worked out before the artists both hit the road this spring.
Cabello fans think joining Swift on tour is going to be a huge stepping stone for her career.
They also love the fact that Cabello has always been super open about her friendship with Swift, and now they're working together.
In February of 2017, Cabello told The Sun that she frequently turns to Swift for advice about love and relationships.
She told The Sun's Dan Wootton, "We talk about love a lot. And if I ever have any questions about love or if there's anything that I'm going through at the time, whether it's with a boy or with a friend, she's a very good person to ask those kind of questions. She's very knowledgable about that kind of stuff." She gave more detail about her friendship with Swift to Seventeen the same week of her interview with The Sun.
She told Seventeen the reason her and Swift clicked was because they're both sensitive people. "Taylor is always the person that I go to for boy advice," she said. "The reason we became friends was purely because we think the same way about a lot of things: We're both really sensitive and emotional when it comes to love. We love love, and we love writing songs about love." It looks like Taylor Swift and Camila Cabello fans are never going to be the same after seeing them in concert together.