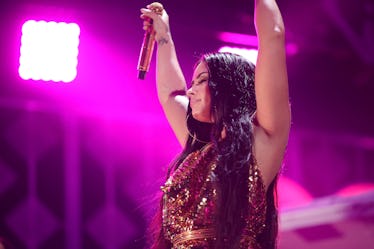 Demi Lovato's Fans Staged A Concert After Her Hospitalization & I'm Crying
Christopher Polk/Getty Images Entertainment/Getty Images
Fans were devastated when they learned that Demi Lovato's performance at the Atlantic City BeachFest Concert would be canceled due to her reported hospitalization for an apparent drug overdose. However, they decided to show up to the venue anyway, putting on an impromptu concert to celebrate the singer and her music. This video of Demi Lovato's fans singing "Sober" after her hospitalization will give you all the feels.
According to People, fans gathered at the Atlantic City Beach on Thursday, July 26, staging a show of their own. At one point, they sung her emotional ballad, "Sober," released nearly a month before her reported overdose, in which the singer revealed her relapse after six years of sobriety.
At the end of the performance that was posted on Twitter on July 26, Lovatics yelled, "We still love you," which garnered a round of applause from the swelling crowd in front of them, most of whom were also visibly moved by the show.
The touching scene comes just days after Lovato was reportedly found unconscious in her Hollywood Hills home from what TMZ had initially reported as a heroin overdose. Other sources, however, have confirmed that the incident was absolutely not heroin-related. A rep for Lovato seemingly echoed a similar claim with Elite Daily, alleging that misinformation had been spread in the wake of the reported overdose. The rep also shared that Lovato is, thankfully, now in stable condition:
Demi is awake and with her family who want to express thanks to everyone for the love, prayers and support. Some of the information being reported is incorrect and they respectfully ask for privacy and not speculation as her health and recovery is the most important thing right now.
The update was surely a moment of relief for Lovato's fans, as they've been sharing warm words of encouragement and support on social media in honor of her ever since the July 24 incident.
Many fans shared messages of how the 25-year-old singer and her music have helped them through tough times of their own through the hashtag #HowDemiHasHelpedMe.
Even some of Lovato's closest friends extended touching messages of love and encouragement to her, including Ariana Grande and Nick Jonas.
Jonas shared a picture of himself and Lovato on Instagram that showed them smiling on stage together. He wrote:
Sending all my love to my friend @ddlovato, you can beat this. Stay strong, I love you 🙏❤️
However, her family and her ex, That '70s Show alum Wilmer Valderrama — who she dated for six years up until 2016 — have reportedly been by her side at the hospital to support her through recovery.
With all of the support coming from the people at her bedside, her friends and fans on Twitter, and others who have gathered at the site of her concerts, Lovato has surely gotta be feeling the love. Here's to a speedy recovery, Demi, and we all can't to see what the future holds for you.
If you or someone you know needs help with substance abuse issues, you can reach out to the Substance Abuse and Mental Health Services Administration (SAMHSA) National Helpline at 1-800-662-HELP (4357).