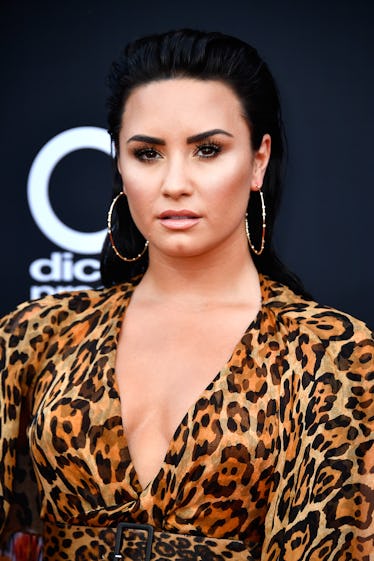 Demi Lovato Is Reportedly Stable After Being Hospitalized For A Reported Overdose
Frazer Harrison/Getty Images Entertainment/Getty Images
Demi Lovato is reportedly stable after a reported drug overdose, according to People magazine. The 25-year-old singer was reportedly rushed to the hospital just before noon on Tuesday, July 24. Thankfully, now a source close to the situation has told People that Demi Lovato's condition is stable.
UPDATE: In a statement shared with Elite Daily by email, a rep for Lovato says that the singer is awake. The statement reads,
"Demi is awake and with her family who want to express thanks to everyone for the love, prayers and support. Some of the information being reported is incorrect and they respectfully ask for privacy and not speculation as her health and recovery is the most important thing right now."
EARLIER: Lovato was reportedly found unconscious in her Hollywood Hills home after reportedly celebrating a friend's birthday in West Hollywood on Monday, July 23, according to TMZ. Although TMZ initially reported that Lovato had suffered a heroin overdose, People's source confirmed that this incident was absolutely not heroin-related. Elite Daily reached out to Lovato's team for confirmation on the reports of an overdose and the reported hospitalization, but did not hear back at the time of publication.
Law enforcement sources told TMZ that Lovato was "treated with Narcan at her home — an emergency treatment for narcotic overdoses," though Lovato and her team have yet to confirm this.
The news of a possible overdose comes just four months after Lovato celebrated six years of sobriety in March. In June 2018, Lovato revealed to family, friends, and fans that she had relapsed. In a song entitled "Sober," she apologized to her loved ones, singing:
Mama, I'm so sorry I'm not sober anymore / And daddy please forgive me for the drinks spilled on the floor / And I'm sorry for the fans I lost who watched me fall again / I wanna be a role model, but I'm only human
Lovato has been open about living with mental health and addiction issues for several years. In 2011, she sought treatment for self-harm, bipolar disorder, and substance abuse. After relapsing, Lovato entered a sober living facility and maintained her sobriety from 2012 until 2018.
Lovato has been on tour in recent days. She performed with Iggy Azalea on Sunday, July 22, at the California Mid-State Fair. Before stepping on stage, Azalea spoke with Entertainment Tonight about how proud she was of Lovato's honesty about her struggle with addiction:
I was just really proud of her that she was honest, because it's really hard to be honest with yourself. So, to be honest with the whole world, to share something that you struggled with very publicly, it's something that is very admirable. I was very proud of her to see her write that song and put it out.
On July 11, ET also reported that Azalea had known of Lovato's recent relapse. The rapper opened up about their friendship and how she wanted Lovato to be the one to tell the world about her struggles:
I had known about it, as a close friend. So I had really wanted for her to be the one to tell people that. And I worried a lot, as her friend, that something was going to leak or somebody would somehow take that and use it negatively against her, or to make her seem like she's got a secret.
Lovato was scheduled to resume her performances on Thursday, July 26, in Atlantic City. There's been no official word on if those shows will go on as planned, but given the circumstances, it's very likely that future shows will be postponed or canceled.
Hopefully, with the support of friends like Azalea and others, Lovato can pull through this and get the help she needs.
If you or someone you know needs help with substance abuse issues, you can reach out to the Substance Abuse and Mental Health Services Administration (SAMHSA) National Helpline at 1-800-662-HELP (4357).