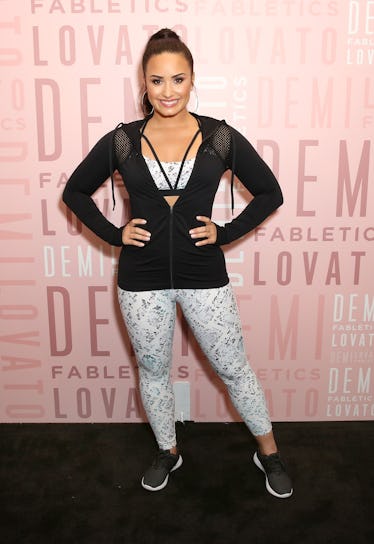 Demi Lovato Got Real About Why She Posted "Cellulite" Pics To Instagram & It's Inspiring
Rachel Murray/Getty Images Entertainment/Getty Images
Demi Lovato continuously proves she is the queen of confidence. The young star has always been incredibly outspoken about loving yourself and accepting your imperfections, and she recently shared a powerful message on Instagram reiterating the sentiment. According to the "Tell Me You Love Me" star herself, Demi Lovato's "cellulite" photos were all about embracing her flaws and empowering her fans.
Man, I love her.
On Thursday, April 5, Lovato shared pictures of her body on Instagram with the captions, "No thigh gap for me and yet I still love myself," "Cellulite and yet I still love myself," "Stretch marks and extra fat... and yet I still love myself." The images show Lovato proudly standing in her closet wearing a crop top and short shorts. She looks incredible, though she says the photos were about displaying her "flaws." She later spoke to E! News about the inspiration behind the pictures. Lovato explained,
I was on Instagram and I started comparing myself to these Instagram models and I just thought to myself, someone needs to show my fans and anybody that's looking at my account that what you see isn't always what's real.
She continued, "And so, I decided to embrace my flaws and — I don't even like to call them flaws, it's just a part of who I am — and show the world that I'm imperfect, but that's what makes me beautiful."
Lovato has struggled with an eating disorder in the past and opened up to her fanbase about it in her documentary, Simply Complicated. Today, she says she avoids dieting and works on having a healthy relationship with food across the board. She explained to E!,
I think that dieting is something that we've been forced to kind of do because of the diet culture... we're praised if we don't eat fried chicken and we eat a salad. It's like, sometimes that's what you want and it's OK to treat yourself every once in a while.
The truth is, listening to Lovato speak, you sort of get the sense she's lived a thousand lifetimes. She's become a clear advocate for self-love and addiction recovery, and this message rings through in all of her music, perhaps most notably in her epic anthem, "Confident." When she wrote the single in 2015, she told Billboard magazine, "I'm wanting to share that with the world and showing everyone how you can go from being very insecure with body image issues to feeling so proud of your body that you want to show it to the world."
She also said, "The pre-chorus says it best, where it says, 'You've had me underrated.' I've wanted to shout that from the top of my lungs for years now."
All of this time spent working on herself seems to have gained her great insight and wisdom. In fact, she shared an empowering message with E! for anyone struggling with themselves out there. She said,
What I would say to somebody who's struggling right now, is try to find the gratitude. It's so important that you try to find gratitude in your life and focus on the positive things and when you're able to do that, or you're able to help others, you're able to get outside of yourself and you're able to look at your life from a different perspective. Sometimes it's really challenging and it's really difficult, but it's something that helps me every day, and so far it's worked.
Demi, thank you. You're fierce AF and genuinely a role model for me today and every day. What IS wrong with feeling confident?
Check out the entire Gen Why series and other videos on Facebook and the Bustle app across Apple TV, Roku, and Amazon Fire TV.