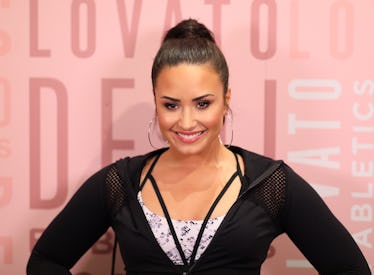 This Reported Demi Lovato Update From Her Mom Is Such Good News About Her Recovery
Jean Baptiste Lacroix/Getty Images Entertainment/Getty Images
About three months ago, former Disney Channel star and "Cool For The Summer" singer Demi Lovato was reportedly hospitalized for a life-threatening drug overdose. The singer's family and friends, as well as fans around the world were absolutely devastated. Thankfully, though, it seems like she's doing much better now. Demi Lovato is reportedly 90 days sober following her relapse, according to her mom, per The Daily Mail. Elite Daily reached out to Demi Lovato's team for comment on the report but did not hear back in time of publication.
Back in July 2018 paramedics reportedly rushed Lovato to the hospital from her Hollywood Hills mansion, for a reported drug overdose per TMZ. A Lovato rep told Elite Daily in a statement at the time,
Demi is awake and with her family who want to express thanks to everyone for the love, prayers and support. Some of the information being reported is incorrect and they respectfully ask for privacy and not speculation as her health and recovery is the most important thing right now.
It was incredibly scary, but just a few months following the incident, the 26-year-old singer's mother had a hopeful reported update. On Friday, Oct. 26, Diana De La Garza told Maria Menounos on Sirius XM that the singer is reportedly in rehab and doing just fine, and she shared that Lovato is reportedly 90 days sober. While she isn't entirely sure what could have caused Lovato to relapse, De La Garza told Menounos that the singer is apparently happy, healthy, and working hard to maintain her wellness. Addiction is a really tough disease to overcome, but it sounds like Lovato is apparently pushing through as hard as she possibly can.
According to The Daily Mail, De La Garza discussed the incident with Menounos on Sirius XM about how proud she is of her daughter's reported progress.
She said:
She has 90 days and I couldn't be more thankful or more proud of her because addiction being a disease is work. It's very hard and there are no short cuts.
On Sirius XM, De La Garza also told Menounos that she's still very shaken up about her daughter's apparent overdose. While a few months have passed since it happened, I can only imagein how tough it is to see your children go through something so serious.
It's still a really difficult thing to talk about. I literally start to shake a little bit when I start to remember what happened that day. [Demi's assistant called and] said, 'Demi overdosed'. So, I was in shock. I didn't know what to say. It was just something that I never, ever expected to hear, as a parent, about any of my kids.
The reported overdose happened about a month after she released the heart-wrenching song "Sober," in which she opens up about relapsing after six full years of sobriety. The lyrics apologize to her entire inner circle of loved ones, and honestly, it's so heartbreaking.
To be completely honest, I'm rooting for Demi harder than I've ever rooted for anyone before, and I know that she has the support of all her Lovatics as well. Hearing that she's is reportedly doing well, staying sober, and getting back to her old, happy self is probably the best news I've heard all week.
If you or someone you know needs help with substance abuse issues, you can reach out to the Substance Abuse and Mental Health Services Administration (SAMHSA) National Helpline at 1-800-662-HELP (4357).