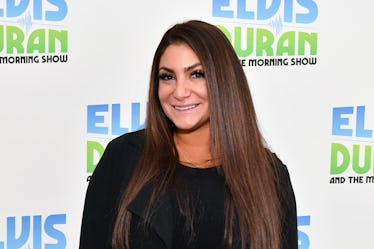 This Video Of Deena From 'Jersey Shore' Finding Out The Gender Of Her Baby Is So Adorable
Dia Dipasupil/Getty Images Entertainment/Getty Images
Another little meatball is joining the Jersey Shore gang! Just a day after announcing her pregnancy, Jersey Shore Family Vacation star Deena Cortese has shared a video detailing the exact moment she found out what she was having. We didn't see too much of Deena's relationship with her husband Chris Buckner on Season 1 of the Jersey Shore spinoff, but we'll likely see some of the sweet couple's steps toward becoming parents in the show's next season. Deena from Jersey Shore is having a boy, and the Instagram video of her baby's gender reveal is pretty adorable.
Some of Jersey Shore Family Vacation's most memorable antics came courtesy of Deena, who definitely embraced her childfree life when she could and got hilariously drunk more than once. When Jersey Shore Family Vacation returns later this summer, it's safe to say that a pregnant Deena will take a step back from partying with her fellow guidos and guidettes. Perhaps her husband Chris will even make more appearances on the series as Deena has quiet nights at home during the season's filming in Las Vegas.
Deena originally broke her baby news via an elaborate, Fourth of July-themed photoshoot. When she posted the frames on Instagram, she also revealed that her son's name will be Christopher John, writing alongside the photos:
Chris and I Decided to wait until we were ready to spill the beans! Now that we are safely into our second trimester.. us and our little monkey are ready to tell the world Our little family is growing! We have a sweet little boy on the way! We Are truly blessed and our hearts are filled with so much joy and happiness. December can't come soon enough! Daddy and Mommy can't wait to meet you Christopher John, you are going to be the most spoiled little boy ever!!!!
With the initial flush of fans' excitement already past us, Deena has provided a sneak peek into Season 2 of Family Vacation, posting a video of her gender reveal in which a MTV camera crew is clearly seen. Is this the special event of the Season 2 premiere happening right before our eyes?
Nowadays, there's definitely a lengthy book about gender reveal ideas somewhere out there, but Deena and Chris chose a fairly simple way to discover what they were expecting. Standing in front of them, a friend lit up a bag, which began producing blue smoke. Accompanying photos show adorable close-ups of Chris's thrilled reaction, because every man secretly wants a son, right?
Jersey Shore stars love their over-the-top moments, but the Buckners' gender reveal looked surprisingly low-key and heartwarming. Seeing the full moment on Jersey Shore Family Vacation will probably make me cry, TBH.
In her video caption, Deena wrote:
The moment we found out we were having a son. Chris' reaction was everything!!!! Uhg I love you @cbuckner_ I can't wait to meet our son!
Baby Buckner is due this December, arriving soon after the couple's first wedding anniversary in October. Deena and Chris got married on Oct. 28, 2017, in a ceremony at a New Jersey winery. According to their wedding website, they first met in 2011 when Deena was on a break from filming Jersey Shore. Despite having mutual friends, Deena had never met Chris, while Chris and his family were already huge Jersey Shore fans. The Buckners particularly stepped up to the plate when Deena's father passed away in 2016, as the website reads:
Before Deena['s] dad passed away he told her he could not wait for her to marry Chris and to have grandkids, he wanted her to have a happy life. Once he passed Chris and his family took Deena and her mom under their wings and helped them through the hard times.
While their son's first name is clearly a homage to his dad, Deena's father's name was John, which explains the middle name that the couple has announced. Between a tribute like this and Ronnie Ortiz-Magro's baby daddy drama, the emotional stakes of Jersey Shore Family Vacation Season 2 are already looking quite intense.
I'm so ready for inevitable footage of Deena commiserating about pregnancy pains while fellow moms Jenni Farley and Nicole Polizzi laugh at her. Season 2 of Jersey Shore Family Vacation premieres this August on MTV.