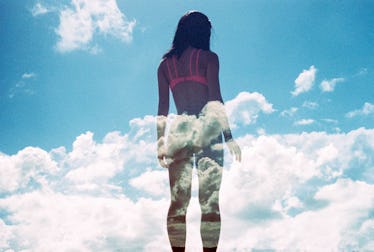 These 3 Zodiac Signs Will Have The Best Week, So Reach For The Sky
The sun is in Sagittarius and the universe is calling your name. This zodiac sign is the very embodiment of freedom, adventure, and limitless possibilities. Now's not the time to think small. Sagittarius knows just how much potential you truly have, and to hold back now would be doing the cosmos a disservice. However, if you're feeling all out of sorts and unsure of how to harness its optimistic power, it's no wonder. Sagittarius season has been tainted by the sting of Mercury retrograde. Luckily, as of Dec. 6, our planet of logic and communication will finally station direct, so get ready for the season to truly begin. While we're all going to absorb energy from Sagittarius, some of us will feel it way more deeply, and starting December 3, 2018, this will be the best week for these zodiac signs: Leo, Scorpio, and Sagittarius. If your rising sign falls in any of these signs, you, too, will be thriving.
Get ready for a bang of positivity, because not only is it Sagittarius season, a new moon will brighten our world on Dec. 7, just before the week comes to an end. Are you ready to set the intention of a lifetime? Are you ready to go after your dreams with wild abandon?
Leo: You're Being Lit From Within With Creativity
You have every reason to jump for joy, because you're about to experience one of the most powerful new moons in your entire year: The new moon in Sagittarius. Lighting a flame in your fifth house of fun, pleasure, and creativity, this is an epic time to set an intention that manifests artistic expression and attracts happiness. It's all to easy to let societal expectations and self-criticism impede your ability to enjoy life, but your inner child is begging to be released. It's time to get to know them again and give them the center stage. What's the point of existence if you can't be playful?
Allow the new moon in Sagittarius to be your announcement to the universe that you are ready to live in the moment and let negativity go. You deserve it.
Scorpio: You're The Sexiest Vixen On The Block
Your love life, social life, and financial state probably experienced some heavy introspection (possibly even drama) while Venus was in retrograde from Oct. 5 to Nov. 16. Do you remember how difficult that time was? Even if you remained strong, you probably could help but let the blues affect you. It put a whole damper on your Venus in Scorpio experience. Luckily, you have a chance to experience it all over again, because Venus reentered Scorpio on Dec. 6. The best part? Venus isn't in retrograde anymore.
When Venus — planet of romance, love, and luxury — is in your zodiac sign, it's all too common that you become the most attractive energy in the room. People want to be around you because they can't help but fall in love with you. Enjoy it, baby.
Sagittarius: It's Time For You To Truly Tap Into Your Power
The new moon in Sagittarius takes place this week and you have the power to totally revamp your entire life. You've grown and evolved so much over the past year. Take a moment to think about the person you've become after surviving and overcoming so much. Even if your success isn't clear yet, it soon will be. You owe it to yourself to make a decision that continues to change everything for the better and guide you in the right direction. When the new moon takes place in your first house of the self, it's go time.
What's important to you? What are you ready to let go of? What are you ready to receive? This week, the universe will hear you loud and clear. Make your desires known.