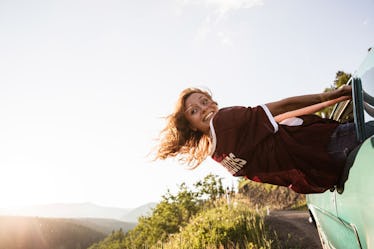 These 3 Zodiac Signs Will Have The Best Week Because They're Focusing On Themselves
It's Sagittarius season, baby. It's time to open your mind and drink in all the knowledge and wisdom this world has to offer. It's time to embark on a wild adventure and never look back. The answers that you've been searching for lie in the great unknown, so why are you holding still? When the sun is in expansive, fearless, and risk-taking Sagittarius, it would be a travesty to stay put. Get out there, because as of December 10, 2018, this will be the best week for these zodiac signs: Leo, Scorpio, and Sagittarius. If any of these happen to be your rising sign, you'll be just as impacted by the awesomeness.
Although we've been experiencing Sagittarius season since Nov. 22 and it will continue until Dec. 21, this part of our yearly zodiac journey has been marred by one pesky problem: Mercury retrograde. While this transit has been oozing error and confusion, it's put a damper on the whole Sagittarius experience. Luckily, the weight is slowing being lifted, because as of Dec. 6, Mercury has shifted course and will now be traveling direct. The best part? Mercury will re-enter Sagittarius on Dec. 12, enhancing our sights for greatness and possibility. Let the optimism wash over you.
Leo: You're In The Midst Of A Creative Journey
Last week, a new moon shined a light on your creative fifth house of fun and pleasure, launching you into an era of self-expression and playful enjoyment. This exhilarating energy in your life is that much more palpable now that Mercury retrograde has ended and your fifth house is free of all the stress it has been bearing for the past few weeks.
While the cosmos are influencing your life whether you like it or not, it's up to you just how much you want to get out of this exciting period you're going through. To maximize your creative magic, make a point to say "yes" to playful opportunities, to make art (no matter how sloppy it may be) each and every day. Tell the universe that you're here to have fun and it will reflect that fun back to you.
Scorpio: You've Got Love And Luxury On Your Mind
When you walk into a room, everyone stops to stare in amazement. It probably has something to do with the fact that Venus — planet of romance, luxury, and money — is in your first house of the self, flushing you with loving vibrations and turning your eye towards all things beautiful in life.
Right now, you're exuding luxury and everyone loves it. This is a great time to truly hone in on your self-love and treat yourself like the goddess you are. Open your heart to affection with others, treat yourself with kindness, and feel free to dazzle in all things exquisite in life. There's no better time than now to love yourself wildly.
Sagittarius: You're Becoming A Better Version Of Yourself
There are still a few weeks left of your solar return, and you're about to experience the best part. Truth be told, Sagittarius season has been slow-moving all thanks to Mercury being in retrograde. However, Mercury has officially stationed direct, and although that post-shadow will hang over us all for the next few weeks, take comfort in the fact that Sagittarius season just got way more fast-paced and exciting.
Now's the time to truly embrace everything awesome about who you are. You're always eager to learn more, open your mind, try a different perspective, and adventure all across the world. Right now, we're all totally feeling your energy, so you have every reason to dive deep into everything you love about life.