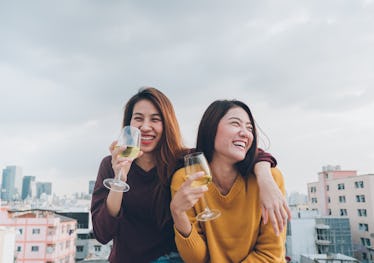 5 Things To Remember If You're Dating Someone Who's Been Cheated On
Shutterstock
When you start dating someone, it's inevitable that some of their past experiences may impact how your relationship develops — especially if they're still nursing old wounds. Case in point: if you're dating someone who's been cheated on, then you might notice that they struggle with trust issues or be prone to jealousy. Fortunately, there are ways in which you can support your partner and strengthen your connection.
First of all, it's important to note that it's totally normal if your SO is still overcoming some lingering fears that stem from a past dating experience. If they were blindsided by a breakup, for example, then they may be skittish about making a serious commitment.
"Everyone has baggage from past relationships," says Melissa Divaris Thompson, a licensed marriage and family therapist who specializes in working with young couples. "So, when entering into a new relationship, there will always be something to work on."
According to Thompson, your number one priority in this relationship should be building trust. You can't erase your partner's painful experiences with cheating from the past, nor can you force them to move on from them — only they can do that, and on their own timeline. However, you can be sensitive to their fears, insecurities, and needs in such a way that bolsters their trust in you and helps them on their journey to healing.
So, if your current SO was cheated on in the past, here are some things you'll want to keep in mind.