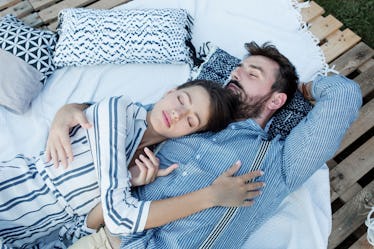 5 Signs Your SO Respects Your Triggers, So You Know You're Safe With Them
Trigger warning: We're going to be talking about triggers today. But don't worry, this shouldn't be too triggering because no matter where you fall into the whole trigger warning/safe space debate, I think we can all agree on one thing: Your relationship should always be a safe space. And how will you know if your relationship qualifies? Well, one very important way is by looking for the signs your SO respects your triggers and looks out for your mental health.
First thing's first: What exactly is a trigger? According to Anita Chlipala, dating and relationships expert and licensed marriage and family therapist, "They go by many names: hot buttons, what Sue Johnson calls raw spots, and what Gottman calls enduring vulnerabilities," she tells Elite Daily. "A trigger is something we are sensitive to, whether through childhood, experiences, or negative interactions with our partner." The danger of being triggered, as Margaret Paul, Ph.D., a best-selling author and relationship expert, told Mind Body Green, is that it can "destabilize you," adding, "suddenly, you find yourself feeling off center and thrust into a bout of anxiety, depression, guilt or shame." This is why it's so important to have an SO who both recognizes your triggers and treats them with respect.
So, is your partner the kind of safe space you deserve? Here are the signs they respect your triggers, according to experts.