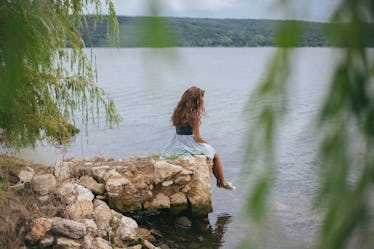 4 Questions To Ask Yourself Before Dating Someone Who Cheated On Their Ex
Sometimes good people do bad things. Mistakes are a totally normal part of being a flawed human being. Now that that's out of the way, if it comes to your attention that someone you're seeing has cheated in a past relationship, you are well within your rights to think twice about dating them. Not because you don't have feelings for them, but because you're allowed to analyze the likelihood of them doing the same to you. If they cheated on their ex, it's logical to wonder if you could be next.
Now of course, relationships can be extremely complicated, and just because someone made a bad decision in the past does not guarantee that they will repeat it. On the other hand, if they have cheated on more than one ex, then it's possible they are working through some deeper issues that are leading them to act impulsively. Again, this doesn't make them a bad person. It just means you're going to have to be honest about whether or not it's something that you, personally, can overlook. If it is, and you are able to keep your more negative feelings about the revelation to yourself and hear them out, then you might be surprised to find that they have put their philandering ways behind them. Either way, consider asking yourself these four questions before diving head-first into a relationship with someone who has a track record of cheating.