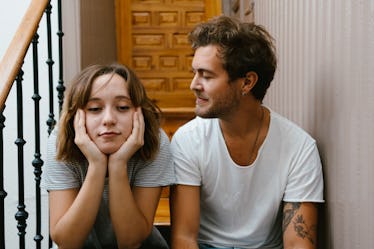 The Struggle & Snuggle Are Real: 7 Things You Relate To If You Date A Light Sleeper
Snuggle up! It's time to hit the hay. Well, kind of — all the blankets are in the right spots, and you're feeling as cozy as ever. Especially after a long day, you've set your sights on sweet dreams, but your significant other just doesn't have such a passionate relationship with their pillow. You'll wake them up if you pull the covers just a slight bit to your side, and don't even think about scrolling through your phone before bed. There are some struggles you can relate to if you're dating a light sleeper, and can't seem to catch all of those Z's.
A solid eight hours or even more a night would be sweet, but bae is just seemingly so against it. They toss and they turn, and maybe get up in the middle of the night. You've come to know what midnight looks like, now that you're wide awake, too. Tomorrow will definitely call for an extra cup of coffee. Can we date caffeine?
Let's be real. You love your partner, and snuggling up with them after a stressful day at work makes life a little easier. Even your afternoon naps have gotten a serious upgrade since you started dating and landed the cutest cuddle buddy. If only you could actually get some sleep, though. These seven things, in particular, you understand all too well. You're snuggling and struggling.