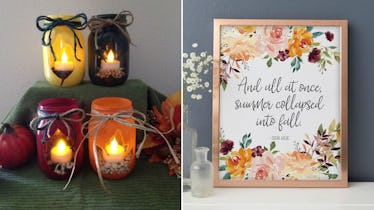 Cute Fall Dorm Decor On Etsy That'll Turn Your Space Into A Cozy Home Away From Home
Fall is in the air, and that means the school year is fast approaching. If you're heading off to college and moving into the dorms, now's your chance to start fresh. The dorm will be your home away from home for the next year, so you might as well make it as cozy AF as possible. That means welcoming the festive spirit with some cute fall dorm decor on Etsy.
Let's be real: Dorms are often pretty boring when you first move in. All you have is a bed, desk, bathroom, and bland walls. It's like a blank canvas that you and your roomie get to paint together with your unique personalities. If comfort is a priority to you, take this opportunity to have your room feeling super cozy to everyone who comes in with any of these eight fall items.
Your dorm will be the place to be for all of the fun fall activities, including drinking Pumpkin Spice Lattes while watching a Halloween movie marathon. The best part about Etsy is you can find pretty much everything you need, while also staying within your college budget. So, take this new school year as a challenge to turn your dorm room into the most epic fall hotspot on campus.