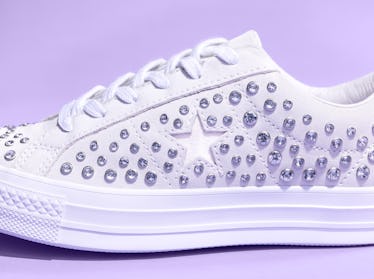 These Converse x Opening Ceremony Sneakers Are DRIPPING In Rhinestones
Courtesy of Converse
All your days of DIY bedazzling have led up to this moment. The fashion world heard your pleas for sparkle and has taken a call to action. The new Converse x Opening Ceremony rhinestone sneakers are covered, heel to toe, in sparkle. 178 rhinestones per shoe, to be exact (yes, I counted).
You're familiar with Converse. The shoe brand loves a good collaboration and I love them for it. Miley Cyrus' Converse line was full of glittery, platform goodness, and J.W. Anderson's Chuck Taylors featured a plethora of rainbow rubber kicks (with fuzzy laces, no less). The iconic shoe company also partners with other big brands for epic releases. Hello Kitty x Converse sneakers dropped earlier this year and my nostalgic heart could hardly take it. Or how about those Coca Cola x Converse high tops? OK, OK, you get the point, Converse has all the good collabs.
If you're less acquainted with Opening Ceremony, it's a New York City-based fashion house best known for its mix of high-end designers and emerging streetwear brands. Named after the tradition of the Olympic Opening Ceremony, the company's mission statement revolves around collaborations and bringing brands together. Adding to Opening Ceremony's long roster of past partnerships, including Topshop, Pendleton, Adidas, Birkenstock, and Disney (to name but a few), now comes Converse! And no need to wait around for an anticipated release date, these shoes are available now.
I personally, and painstakingly, counted the rhinestones on these shoes and according to my calculations, each shoe has 178 beautifully sparkly gems. That's a total of 356 rhinestones – one for every day of the year you'll be wearing these kicks. I mean, who wouldn't want all that bling? Disclaimer: I counted the stones via these photos, so no promises that each size shoe has the same amount.
Ditto.
This limited-edition sneaker is a version of Converse's classic One Star design, and remains true to the style with the iconic cut-out star on each foot. The One Star shoe has been around since 1974, and was originally intended as a performance basketball shoe. My, how times have changed.
The Converse website points out that "The limited-edition sneaker features rhinestones in three sizes of stone, durably punched onto the soft premium suede...not stuck or glued." Translation: They won't fall off! Plus, that silver metal band around each shoe that holds it in place adds some extra shine.
Same...
The inner soles of the shoes are where branding comes into play. The left shoe has the traditional Converse One Star insignia while the right shoe features Opening Ceremony's logo.
The sneakers come with two different lace options – a true white and an off-white to match the tonal suede.
In even more great news, these sneakers are available now for purchase via the Converse website. They retail for $150 and considering they're made of real suede, have hundreds of rhinestones (securely) dotted throughout, and that they're limited-edition, it's not a bad deal. Before you click that order button though, take note that they're unisex (yay!), which means ladies will need to size down about two sizes.
Do it.