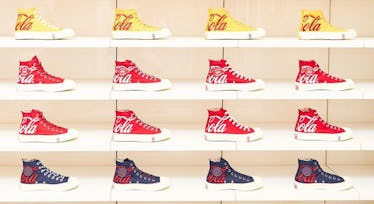 Converse Just Dropped Coca Cola Sneakers & The Thirst Is Real
Coca-Cola and Converse sneakers are two of the most iconic American brands to date. KITH, in contrast, is a new age lifestyle and streetwear brand that is constantly finding the hottest trends. On that note, here's where to buy KITH x Coca-Cola Converse sneakers because it's an epic collaboration.
KITH was founded in 2011 by Ronnie Fieg, a fashion industry insider with a passion for footwear, so it comes as no surprise that Fieg included a few pairs of limited-edition sneaks in his Coca-Cola collaboration. The collection also has a variety of clothing and accessories, but for all of the sneaker lovers out there, the Converse high tops are definitely the most exciting part.
The shoes come in four different colors to represent four different countries: Red for the United Sates, Blue for France, White for Russia, and Yellow for China. Coca-Cola is written in Russian. There are also sweatshirts in a variety of colors to represent the countries where Coke is sold, with the brand's name appearing in each country's language.
The KITH x Coca-Cola collaboration hasn't hit stores just yet (more on that later) but Fieg has been releasing many teaser photos on his Instagram to generate some hype. Check out the goods, below!
"Bridging Coke and Converse was a no brainer for me. Two all American pioneer brands that stand for so much more than the goods they create," wrote Fieg in an Instagram post. From left to right, the sneakers represent China, Russia, France, and the United States. The shoes have the standard Converse logo at the heel as well as the KITH logo on the outer sole. An inner patch with the KITH logo also reads "it's the real thing," a classic Coca-Cola slogan.
Each sneaker has a translucent green sole, reminiscent of Coke's original green glass bottle.
Fieg teased what are presumably the shoe boxes for this collection, which look to be a collector's item all their own.
Sweatshirts show the Coca-Cola logo in Russian, Hebrew, Arabic, Mandarin, and Japanese.
A graphic tee depicts the evolution of the iconic Coke bottle.
"Kith x Coca Cola Golden Bear™️ varsity. Made in USA." It doesn't get much for iconic than that.
This red and white rugby shirt looks like a cozy layer for those end of summer cool nights.
Surfbort.
You'll obviously need a "Coke" bikini to go with your surfboard.
What would a Coca-Cola collaboration be without some cans of the good stuff? Fieg designed a limited-edition can of the classic soda as well as Cherry Coke (my favorite flavor). The cans unfortunately won't be for sale, it sounds like shoppers of the launch may be able to score some, but Fieg promises more details on that soon.
Coveteur got an exclusive look at the rest of the collection before it drops, and revealed that, along with the Converse shoes, it'll also include hats, speakers, swimwear, towels, skateboards, sunglasses, and tons more clothing.
The collection with be available online at KITH starting on Aug. 18, and as with most limited-edition collaborations, it may not last long, so mark your calendars and get ready to shop!