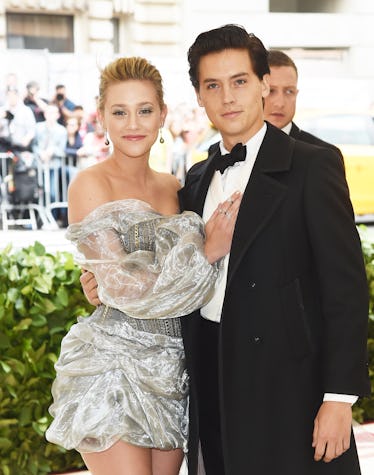 Only '90s Kids Will Get This Flirty Comment Cole Sprouse Left On Lili Reinhart's Photo
Jamie McCarthy/Getty Images Entertainment/Getty Images
God bless the relationship that is Sprousehart. It's true that Cole Sprouse and Lili Reinhart are both beyond talented actors, but there's also something just so dazzlingly normal about the couple that I just want to applaud their each and every interaction. And, while it's clear that these two are head-over-heels in love with each other, that doesn't stop them from being witty and silly and quick to play around with each other on social media. But let me tell you, Cole Sprouse's comment on Lili Reinhart's Instagram totally takes the cake in the simplest, most '90's-kid way, and my heart is actually soaring.
Now, you'll remember a time when Cole Sprouse and Lili Reinhart's relationship was kept pretty tight-lipped. They tried (very, very hard) to avoid any type of confirmation that they were an item, but if you've seen these two as Betty and Jughead on Riverdale, you can see why people found it hard to believe that they weren't dating at all. I mean, the chemistry between them was out of this world, and their constant playfulness on social media made things all the more obvious.
C'mon you guys, what do you take us for? Some kind of oblivious fools?
WE SEE YOU.
We see you and we like you.
After what felt like an eternity, they finally made their official debut as a couple on May 7, 2018, when they arrived at the Met Gala together. And for anyone who's like, "hey, they could have been going just as friends," I THINK THE HELL NOT:
So here we are, in the present, basking in the glory of knowing that the pair are totally ~a thing~ and are no longer trying to hide it — which leads us to Sprouse's amazingly retro pickup line that he (jokingly) used on Reinhart.
Reinhart graced the cover of L'officiel NL magazine, and she looked très magnifique. The magazine posted Reinhart's cover to Instagram on August 9, writing,
lofficielnl🚨 Prepare yourself to a new fashion season with the L'OFFICIEL NL Big Fashion Issue. In stores August 15th and starring the cover: Netflix Riverdale's stunning beauty @lilireinhart ❤️, photographed by rockstar @damon_baker💯
Um, hello perfection. How are you today?
Reinhart has since been posting some sneak peeks to her own Instagram account, and you guys, Sprouse has taken some damn notice (as he should).
Popular Instagram account @commentsbycelebs caught Sprouse flirting with Reinhart in one of her sneak peeks, asking her, "a/s/l?" and honestly, have you ever recalled such an AOL-inspired pickup line?
If you don't even know what "a/s/l" means, let me direct you to exhibit A below:
Ironically, this depicts a perfectly '90s setup, complete with wood-paneled walls, a gigantic computer with an absurdly small screen, and a corded mouse. We couldn't get more '90s if we tried, folks.
Of course, @commentsbycelebs screenshotted Sprouse's comment and uploaded it to their account, writing, "If they don't remember 'age/sex/location' they're too young for you bro," which is entirely accurate. After all, "a/s/l" was what '90s kids (who weren't allowed be in chatrooms) used to ask each other in chatrooms (sorry, mom and dad), since public profiles that give away all your personal information and pictures to perfect strangers who wanted to flirt with you weren't a thing yet.
In all honestly, Cole Sprouse and Lili Reinhart seem to be a match made in heaven, and I hope that Sprousehart will continue to grace us with some adorably hilarious social media comments for all of eternity.