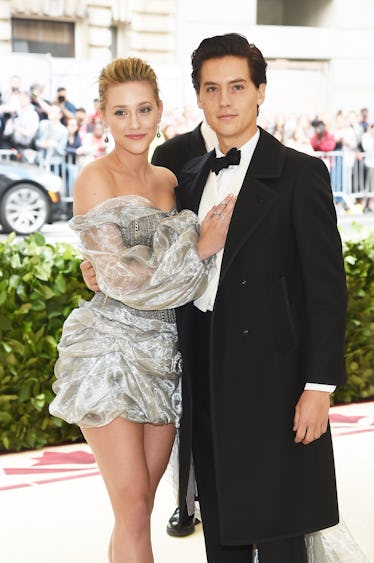 Lili Reinhart Posted A Selfie With Cole Sprouse To Her Instagram & It'll Have You Swooning
Jamie McCarthy/Getty Images Entertainment/Getty Images
Get ready for some serious cuteness overload, y'all. It's probably my favorite thing to see two celebrities finally making things "Instagram official" with their relationship. I find it beyond charming at how normal it seems, because it shows that *all* couples, including celebs, have that beginning phase at one point, not just us mere mortals. And now, our two favorite Riverdale stars, Cole Sprouse and Lili Reinhart, have posted their first photo as an official couple on social media, which, in case you didn't know, means it's the real deal. And honestly, Lili Reinhart's Instagram photo with Cole Sprouse is everything you want it to be: artsy, dramatic, and just hella perfect. On May 31, Reinhart posted a throwback picture of the two of them getting ready for the 2018 Met Gala, and it is serious goals. Keep in mind, their Met Gala appearance on May 7 was their first red carpet debut together, which all but ended any speculation as to whether these two were a couple or not. And now that we've got a more personal photo of the two of them, it's over folks. We know exactly what's up, and I am living for it.
Go ahead and take a look at the photo and tell me that it's not all kinds of gorgeously jaw-dropping. Just look at how adorable these two are:
Can someone say Sprousehart forever? Because SPROUSEHART FOREVER.
Hell, even the composition of the photo is beautiful. Plus, it's got that filmy, black-and-white thing going on, and, paired with Reinhart and Sprouse's gala attire, makes it seem as if this image could be from a century ago. Bravo to Sprouse for nailing this pic.
This is a pretty big move for the pair, who are known for keeping their private life very much out of the public. Back in April, the cast of Riverdale interviewed with Seventeen and Reinhart candidly spoke about her love life, admitting why she wasn't going to delve into the details of her personal relationships:
Every time someone asks me about it, I make a decision then and there about whether I'm comfortable. It's not like I'm in some kind of contract, but I'm not in the place where I want to talk about it, and that's totally fine. It's called a private life for a reason—it's mine, and it's special and sacred. My relationships are between me and whomever I'm with, not between me and the world.
Completely understandable, if you ask me.
But she did mention in the February issue of Ocean Drive magazine that Sprouse has a "calming energy" that has helped her through dealing with the downsides of being famous. "He really brings us down to earth if we're feeling like something we've said is being taken out of context," Reinhart said. "He's always the one to be like, 'Just ignore it. It will blow over.' It's a nice, calming energy he has because you know that he's been through it."
See, you guys? Get you a man who will be your rock and take badass photos of you both. Also maybe one who does things like this:
Swoon.
It's nice to see how far we've come with this couple. Just a few months ago during a PaleyFest Q&A, Sprouse was asked if he and Reinhart were dating, and the response was, "No comment." Of course, the look on his face made it totally obvious that they were totally a couple — as did Reinhart, who sat with her face covered in her hands.
It's OK to step out of the shadows now, you guys! We know that you're official, and we love it so very, very much.