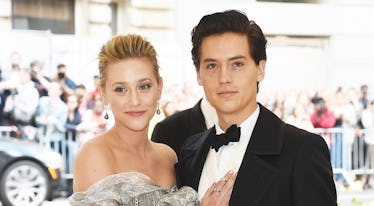 6 Clues That Cole Sprouse & Lili Reinhart's Red Carpet Debut Gave About Their Bond
Jamie McCarthy/Getty Images Entertainment/Getty Images
For those of you who didn't keep up with the Met Gala last night, let me give you a little refresher. As usual, it delivered with some amazing outfits and, more importantly, some juicy celebrity gossip. The Met Gala has always been a great place for A-listers to flaunt their relationships, both new and old. Last night, two Riverdale star, Cole Sprouse and Lili Reinhart, made their red carpet debut. While you may have heard about the possibility of the two being linked together for a while now, last night was a pretty big deal because it was the first time the two decided to step out publicly as a couple.
In fact, in a recent interview with Seventeen, Reinhart made it pretty clear that she didn't necessarily plan on going public with Sprouse any time soon.
Every time someone asks me about it, I make a decision then and there about whether I'm comfortable. It's not like I'm in some kind of contract, but I'm not in the place where I want to talk about it, and that's totally fine. It's called a private life for a reason—it's mine, and it's special and sacred. My relationships are between me and whomever I'm with, not between me and the world.
So, now that the couple decided to shock the world by finally coming forward at pretty much the most public event, like, ever, here are all the clues we can gather about what their relationship is really like.