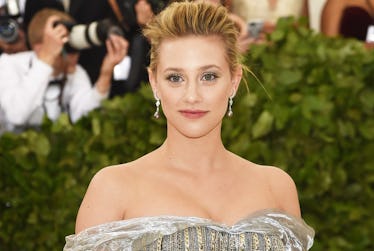 Lili Reinhart's Post About Last Year's Met Gala Will Make You Extra Emotional Now
Jamie McCarthy/Getty Images Entertainment/Getty Images
Lili Reinhart and Cole Sprouse made their first official red carpet appearance as a couple at the 2018 Met Gala, and I'm not going to lie that I audibly gasped when I saw the first photos of them on May 7. But I wasn't the only one who was shook by Lili Reinhart and Cole Sprouse's appearance... Reinhart was, too. Leading up to fashion's biggest night, the Riverdale star took to Instagram and posted a little throwback tweet on her Story, and Lili Reinhart's post about the 2017 Met Gala will make you sob all the supportive tears.
The Met Gala is always at the beginning of every May. Around this time last year, a fan tweeted at Reinhart asking if she was going to the 2017 Met Gala (which was Commes Des Garçons-themed). "ARE YOU GOING TO THE MET GALA," the Twitter user pressed, apparently very anxious to get an answer with those caps. Reinhart responded to the tweet on May 2, 2017, saying, "Psh, I wish. In my dreams." Those dreams came true last night on May 7, 2018, and Reinhart was clearly feeling it all when she posted the throwback screenshot to her Instagram Story as she prepped to attend the Met Gala for the very first time.
~Hey now, hey now. This is what dreams are made of~.
Reinhart absolutely slayed her first-ever Met Gala red carpet with boyfriend Cole Sprouse by her side.
Bughead stans were shook.
You're giving me Joan of Arc goes to prom vibes here, Lili, and I'm here for it.
*Sting in "Desert Rose" voice* I dream of trainnsssss!
The 2018 Met Gala theme was "Heavenly Bodies: Fashion and the Catholic Imagination." Rihanna went dressed as the Pope, and I suddenly became Catholic. People stuck to theme this year a lot more than they did for last year's Commes De Garçons theme, which is good, I guess. Why can't everyone just respect the damn theme?! Anna Wintour doesn't choose theme lightly! Anyways, Reinhart definitely stuck to the theme with her Joan of Arc prom dress, and Sprouse was one of the few men whose look somewhat fit the theme. (Chadwick Boseman was the best-dressed man of the night by far, in my opinion.) Sprouse's long coat seemed to be inspired by the robes priests wear.
He also posted on his Instagram Story thanking the designer who put his Met Gala look together.
He captioned the pre-gala shot of him, "Thank you thank you @thombrowneny for the outfit for tonight's met gala."
Reinhart's Instagram Story posts didn't stop there. She posted a Boomerang that teased her after-party look and then posted this photo of her, Sprouse, and Kate Freaking Moss during the event.
Casual.
Sprouse and Reinhart haven't posted any photos from the 2018 Met Gala to their Instagrams outside of their Stories, and they haven't tweeted about the event either. They're probably hungover AF right now (I would be, at least), so we might have to wait a bit before seeing them post anything from the night.
I have no idea what the inside of the event looked like, but Vogue's Instagram account did post this behind-the-scenes video of one of the night's structures being set up.
It's literally a giant crown. I would like to live inside this crown. What do you think the price point is? How much are the utilities?
But let's talk about the night's real star: Rihanna. She went to the Met Gala literally dressed as the Pope.
Me: *Goes to church with my dad once*.
Here's hoping all of Lili Reinhart's Met Gala dreams came true last night. With Rihanna co-hosting the event, it was bound to be f*cking majestic.