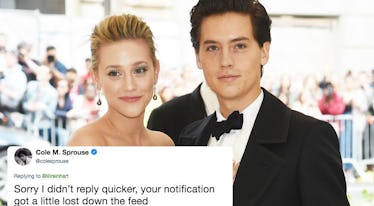 Cole Sprouse & Lili Reinhart Are Flirting About Parenthood On Twitter & I'm Shook
Jamie McCarthy / Getty Images ; Twitter
To all of you Bughead fans out there: You're in for a realll treat. Riverdale's off-screen couple, Lili Reinhart and Cole Sprouse, finally went public with their relationship at the Met Gala on May 7, and the world rejoiced. It's about damn time, amirite? We've all been rooting for them for quite some time now, so it's a big win for anyone who knows and loves these two Riverdale faves together. And now, things are getting even more ~serious~ for the couple, because a Twitter thread of Cole Sprouse and Lili Reinhart flirting and joking about parenthood will actually make your heart race.
But let's back up this gravy truck for just a minute so that we don't totally gloss over this glorious pairing of two people. Rumors were floating around that Reinhart and Sprouse were seeing each other, but because these two keep their personal lives pretty under wraps, it was difficult to get a concrete confirmation. That is, until March 2018 when, during a PaleyFest Q&A, a Riverdale fan asked Sprouse if he and Reinhart were dating. It was, to sum it up in one word, awkward. Reinhart, who was sitting next to Sprouse, covered her face with her hands, while Sprouse whispered *loudly* into his microphone, "No comment." Then, there was a lot of screaming from the audience, because you could tell that Sprouse basically admitted that the pair were clearly an item.
Honestly, those two words meant a lot coming from someone who keeps things so close to his chest — especially when it comes to his love life. In an interview with Elle in July 2017, Sprouse spoke candidly about why he chooses to remain out of the media as much as possible. He said,
I am one of those guys that's never ever going to talk about my private life with the public sphere. I mean people can talk about the Jughead as much as they want but when it comes to the personal relationships, I have spent much of my life separating work and play so I will continue to do so.
Can't even blame him, TBH. But hey, we can't blame the fans of Sprouse and Reinhart either, because those two just look so freaking compatible together on Riverdale. I mean...
And, like...
And I'm sorry, but...
Do you catch my drift? I think you catch my drift.
So! That leads us to the hilarious and adorable Twitter exchange that these two had. On May 13, Sprouse took to Twitter and wrote, "I cant wait to be a mommy someday."
Yes, it was Mother's Day, but there's another reason for this tweet. Let me school you real fast: Last year, Reinhart joked about being the most "daddy" of the Riverdale cast. It's sort of an inside joke between the actors, but if you want a little more background about the joke, you can watch the cast banter about it in the video below.
So if Reinhart claims to be the most "daddy," then Sprouse's tweet seems to be put into a completely different context, yes?
Reinhart seemed to think so, and replied to Sprouse's tweet by writing, "You've admitted defeat."
If you know Cole Sprouse at all (like I do, obviously), then you know that he is pretty damn good at trolling on Twitter, and his reply will make you actually laugh out loud.
He responded with a screenshot of the staggering amount of followers he has, saying, "Sorry I didn't reply quicker, your notification got a little lost down the feed."
Not one to tread carefully either, though, Reinhart was like, "Yep, don't care," and sent him a Twitter-version of the hair-flip emoji:
God bless Cole and Lili for real.
Of course, fans of the couple are shook by their back-and-forth banter, because it's cute AF and also just really, really entertaining to watch unfold:
The tribe has spoken, fam. Cole + Lili 4 EVA.