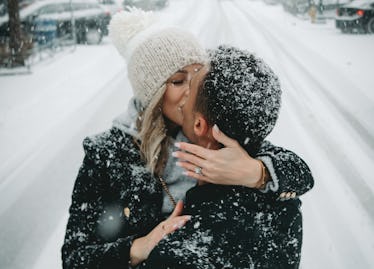 A Body Language Expert Analyzed Clare & Dale's Most Romantic Instagrams
It's only been a couple of weeks since Dale Moss' proposal aired (and Clare enthusiastically said "yes" — obvi), but from their social media activity, it's clear the happy couple is fully embracing their status as fiancés. Fans can't get enough of the romantic photos they've been posting as of late — which, whether you know it or not — can actually offer a lot of insight into their relationship. So, what's the deal with Clare Crawley and Dale Moss' body language on Instagram? Well, according to Patti Wood, a body language expert and author of Snap: Making the Most of First Impressions, Body Language, and Charisma, these pics are packed with interesting little clues about their bond.
Before we dig into the analysis, though, let's review what went down with these two. ICYMI, during week 4 of shooting The Bachelorette, Crawley decided to forfeit her lead role to pursue a relationship with Moss. Then, just as fans had been suspecting, Moss promptly got down one knee and asked her to spend the rest of her life with him (NBD). At the ceremony, Crawley told Moss: "You embody everything I want in a man," and Moss told her he knew they had something special from the moment he stepped out of the limo. "I want nothing more than to keep moving forward and keep being there for you each day," he added. The next day, the couple appeared on Rachel Lindsay and Becca Kufrin's Bachelor Happy Hour podcast, and confirmed that they're not only still engaged, but are also now house-hunting together.
Clearly, Crawley and Moss had an electric connection from the get-go, and that only seems to be building with time. But here's what Wood had to say about their body language in all those recent Instagram posts.