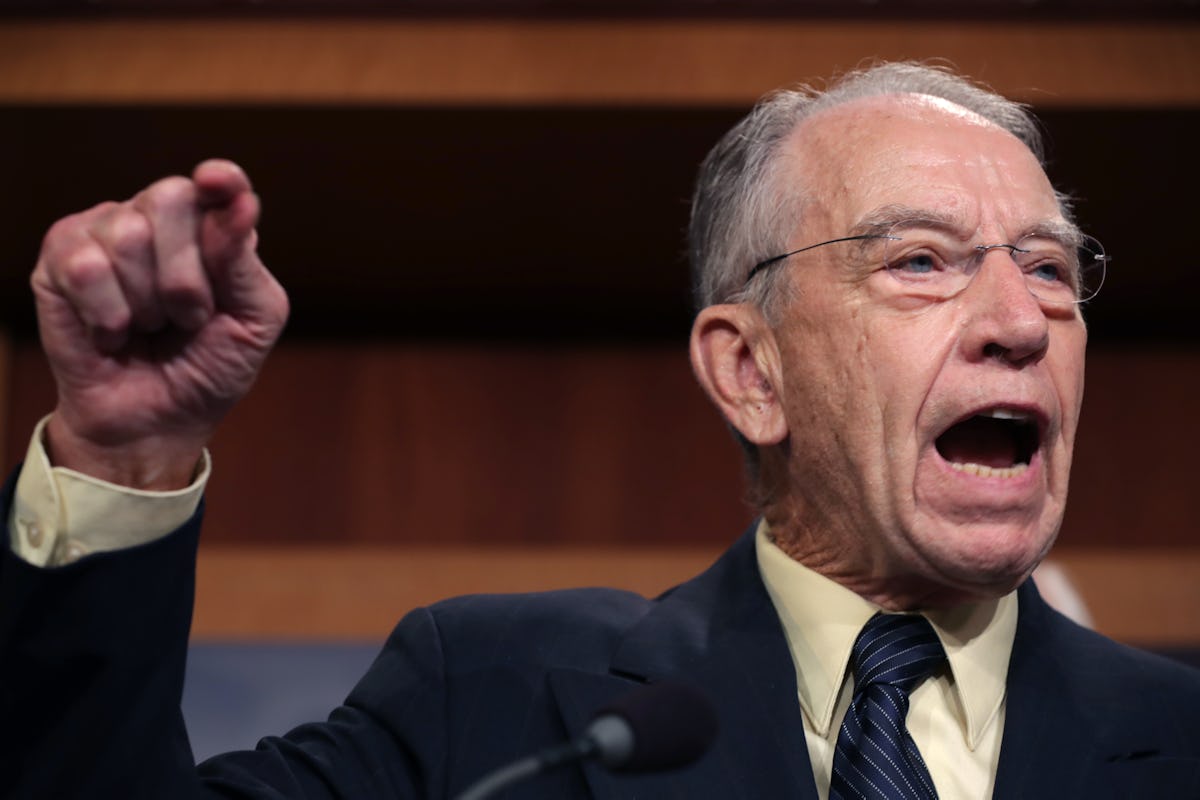 Chuck Grassley's Comment On The Lack Of Women On The Judiciary Committee Is Infuriating
Chip Somodevilla/Getty Images News/Getty Images
Women have come a long way when it comes to taking up jobs that were previously only associated with men — and they're breaking down stereotypes along the way. However, there are some people who seem to struggle with that realization at times. I'm talking about Senate Judiciary Chairman Chuck Grassley here. If you haven't heard, the politician shared his opinion of why there aren't more women on the committee, but Chuck Grassley's comments on the lack of women on the judiciary committee are pretty upsetting.
Speaking to reporters on Friday, Oct. 5, Grassley seemingly attributed the absence of women on the committee to the panel's heavy workload. According to CNN, in response to being asked why there are so few female senators on the panel, Grassley said,
It's a lot of work. Don't forget, compared to a lot of committee meetings, we have an executive every Thursday - maybe they don't want to do it. My chief of staff of 33 years tells me we've tried to recruit women and we couldn't get the job done.
Elite Daily reached out to Grassley's representatives for further comment on his remarks, but did not hear back by the time of publication.
Seriously, though? In 2018, is Sen. Grassley still implying that women might not be up to the task of a difficult workload? C'mon, man. However, according to Vox, Grassley quickly walked back on his comments, telling reporters he believes that it's difficult for both men and women, and that he believes "on average, any woman in the United States Senate, whether they're on the Judiciary or any other committee, probably works harder than the average man."
We have a hard time getting men on the committee. Do you know we've got four people that are on the committee because the leader asked them to be there because they couldn't fill the seats up? They said we need you. It's just a lot of work whether you're a man or a woman. It doesn't matter.
Ah, much better.
Even though you might not be able to figure out where Sen. Grassley stands on this topic of women on the Senate Judiciary Committee, it's a conversation that has come to the forefront of the political discussion as of late.
Representation of the panel has become a fresh topic in the wake of sexual assault allegations leveled against Supreme Court nominee Brett Kavanaugh. The judge has been accused of a sexual assault dating back to more than 30 years ago by California professor Christine Blasey Ford. According to Ford, Kavanaugh pinned her to a bed and attempted to rape her while they were at a gathering of friends in the 1980s, which he has vehemently denied. "This is a completely false allegation. I have never done anything like what the accuser describes—to her or anyone," Kavanaugh said in a statement, per CNBC. Elite Daily reached out to his representatives for further comment on the allegations, but did not receive a reply.
Ford testified about the allegations before the Senate Judiciary Committee on Sept. 27. During the hearing, Ford was questioned by a female prosecutor — a move that was meant to quell concerns of the optics of Ford being questioned by 11 male Republican senators. However, Kavanaugh's nomination was still advanced to the full Senate for a final vote by the mostly-male panel, which is expected to take place on Saturday, Oct. 6.
Considering how the situation has played out, hopefully there will be more women on the committee in the future. Fingers crossed.