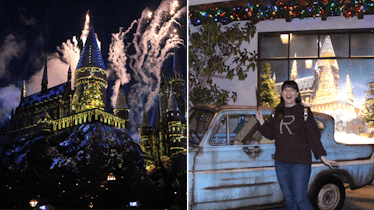 Christmastime At The Wizarding World Of Harry Potter Is Here & I'm Screaming
The holiday season is the most magical time of the year, so I decided to get into the spirit of things by visiting the most magical place I could think of: The Wizarding World of Harry Potter. If you've never made a trip to Hogsmeade yourself, but you're a hardcore Harry Potter fan, you really need to visit Universal Studios Hollywood ASAP. It's wonderful to visit all year long, but now that Christmastime at the Wizarding World of Harry Potter is officially here, your ticket for the Hogwarts Express is calling.
All of your favorite foods and rides like Harry Potter and the Forbidden Journey are still there, but for a limited-time, there are holiday decorations all around, tasty warm drinks, a singing frog choir, and for the first time ever, snowfall in Hogsmeade.
The Wizarding World section is just one area of Universal Studios Hollywood park, but you could really spend most of your day there. If you do have to pick a certain time, I highly recommend visiting at night when Hogwarts Castle lights up for the season. You thought watching the Christmas lights on your tree at home was festive enough, but just wait until you see a giant tree lighting up Hogwarts castle as the Harry Potter theme music plays. It will totally make up for the fact that your acceptance letter somehow got lost in the owl delivery.
You'll want everything in the store to appear underneath your Christmas tree.
The shops at the Wizarding World can get a little dangerous if you're on a budget this holiday season, because you'll definitely want to buy at least one of everything. At Ollivanders in Hogsmeade, get your very own wand that chooses you, and use it around the Wizarding World to cast spells in shop windows.
For anyone looking for specific Harry Potter Christmas decor, I loved the ornaments that looked exactly like the Yule Ball outfits worn by Hermione, Ron, Harry, and Ginny in Harry Potter and the Goblet of Fire. There's also a variety of winter wear in your chosen Hogwarts House, including scarves, hats, jackets, and sweaters. If you've ever wanted to be a Weasley, you'll love the Ron and Harry Christmas sweaters that Mrs. Weasley made for them. This a perfect gift for the Ron to your Harry.
Enjoy any temperature Butterbeer your heart desires.
Just in time to welcome the cold weather outside, the Wizarding World is now serving up hot Butterbeer for you to sip as you stroll through the park. Though, while it's still a little warm during the day, you can enjoy regular cold or frozen Butterbeer as well.
I stopped by the Three Broomsticks for dinner and tried their limited-time holiday dinner with everything you'd ever want in a festive feast, including turkey, stuffing, and cranberry sauce. I also treated myself to cold Butterbeer and Butterbeer potted cream for dessert. You butter believed I loved it all!
Stroll through Hogsmeade for Christmas cheer all around.
Nothing puts you in the holiday spirit more than some good old Christmas decor, and Hogsmeade is covered in snowy rooftops and wreaths galore. While you're wandering around checking out every place to cast a spell with your wand, you might discover a great spot to take your Harry Potter-themed Christmas selfie for the 'Gram down a hidden alley. You'll also want to check out the Hogwarts frog choir by the castle as they sing wizard Christmas songs.
Don't miss the Hogwarts Castle light show at night.
Out of all the festive things to do at the Wizarding World during Christmastime, the one thing that's a certified must is seeing The Magic of Christmas at Hogwarts Castle show at night. The combination of lights and music from the films will truly make you feel like you've been transported to Hogwarts. I got chills as the theme music played, and it just made me want to run home to marathon watch all the movies while wearing my Harry Potter sweater and drinking my own Butterbeer.
As you're heading out, you'll get to experience snowfall for the first time ever in Hogsmeade. This is the perfect time to pull out your phone for a cheery Insta-story video as you dance around. Now, if only I had a time-turner of my own, I could go back and experience it all again.